High-revving performance, shattering torque and race-ready handling characteristics will not be seen today.
Instead, we'll take a look at the
Toyota Prius
--a hybrid car with a reputation as a not-so-mean green machine that's instantly recognized everywhere it goes.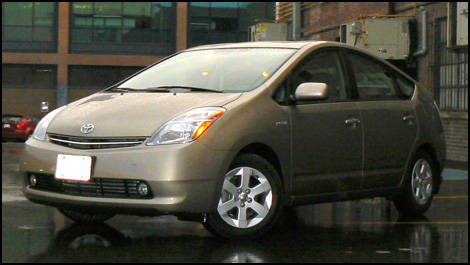 The Prius is instantly recognizable thanks to its very distinct styling.


What's it Like?
In a word, the Prius is neat. The interior looks futuristic and revolutionary--the way I envisioned car interiors in fourth grade. It's airy, brightly colored, and has a surprising amount of room. 4 big guys can sit in this car.
There was a powerful JBL stereo system courtesy of the B-Package included with the tester, which also threw in stability control, anti-theft, fog-lamps,
Bluetooth
and more.
Most of Pruis's controls are mounted to the small steering wheel--including the stereo, telephone hook-up, and a button to cycle through various functions on the touch-activated display screen. Climate controls are mounted on the wheel too. Imagine the mayhem that might ensue if the driver became chilly while driving on a twisty road!
The Drive
Admittedly, it's not a car set up for extremes of comfort or handling. But what it does provide is a quiet ride that only becomes harsh on very pitted, torn-up roadways. In that situation, you'll feel and hear everything. But on the open highway or well-maintained city streets, it's really no different than driving just about any other softly-tuned small car.
The steering ratio is quick and eager, though it's an electric system which lacks feedback. It's almost too easy a car to steer in some instances, though the enthusiasm for changing direction is appreciated in parking situations.
Performance? Fun?
Prius has 110 horsepower and a CVT transmission, so it's safe to say you won't be getting into any trouble with it. Initial acceleration is gentle and laid-back, though once rolling the Prius passes other traffic reasonably well. Some forward thinking and forward looking is still required, but the binoculars can stay in the glovebox.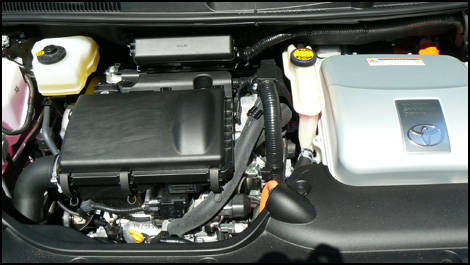 Toyota's Hybrid Synergy Drive produces 110 hp in the Prius.