2-4-6-8. That's the Audi S5 in a nutshell: two doors, four driven wheels, 6 manually-shifted gears and a wicked V8 under the hood. As Audi coupes go, there's the smaller and less powerful TT and the twice as expensive R8- but if it's serious velocity and relative value and practicality you're after, the S5 is positioned perfectly.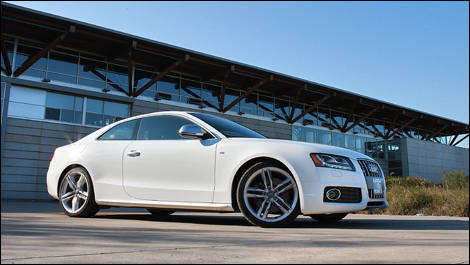 It turns heads as quickly as it plants them to the seats.


Lusty looks
The body is swooping and elegant on a higher level than most of its siblings- and it gracefully struts for attention everywhere it winds up. It's all sexy and lean and scandalous and muscular- like the sheet-metal equivalent of Anna Kournikova in a tight dress.
LED-string headlights are S5's most distinctive feature, generating a cybernetic scowl that clears out the fast lane more quickly than you can reach for your license and registration. With a set of killer 19" wheels mounted over "S5" badged brake calipers, it turns heads as quickly as it plants them to the seats.
S5's rear terminates in a tapered off backside with quad-tipped exhausts that make an unmistakable statement, and the entire GT car silhouette is topped with a tilting glass roof. Few German cars pack this much visual firepower.
Inside
With motorcycle-inspired gauges, a cockpit styling theme and selection of dark colors set off with chrome and aluminum, the S5 boasts a dark and foreboding interior befitting of a true sports car- but one that's also impeccably well made, as Audi's tend to be. Fit, finish and materials are effortlessly among the best you'll find anywhere.
Engine and parking-brake turn on and off with the press of a button, the latter clearing more room in the centre console for Audi's MMI central-command interface.
Though relatively slick after reading the manual, the placement of the control knob and buttons is too far towards the driver. This requires an awkward bend in the wrist to operate, as well as removal of one's eyes from the road.
Entry and exit into the low-slung coupe are relatively easy for front seat passengers who'll enjoy comfortable and supportive sport seats, automatic climate control and adequate space. Adults sitting in back will become well acquainted with their knees.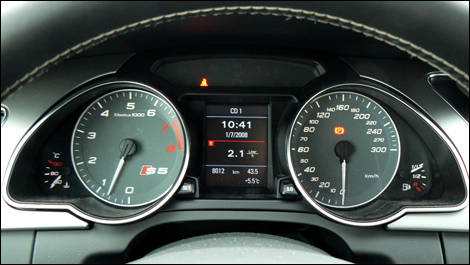 Fit, finish and materials are among the best you'll find anywhere.