Outback ready to hit the trail
Collingwood, ON -
Like its corporate sibling the
Subaru Legacy
, the Subaru Outback has just received mid-cycle enhancements for 2008. These improvements have combined to make the off-road-ready wagon a more refined ride without compromising any of its noted toughness.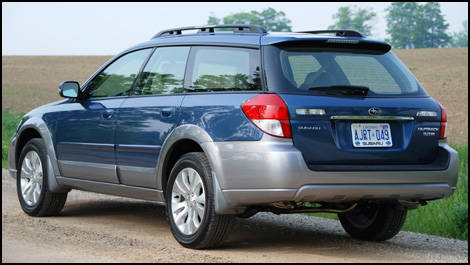 The Outback can still be had with a choice of 3 engines and 3 transmissions.
Choice of three engines, three transmissions
The Outback comes with the same engines as the Legacy--a 2.5-litre 4-cylinder normally-aspirated boxer (170 hp, 170 lb-ft of torque) and a 2.5-litre 4-cylinder turbo boxer (243 hp, 241 lb-ft of torque). It also offers a normally-aspirated 3.0-litre 6-cylinder boxer that delivers 245 hp and 215 lb-ft of torque.
Of the three engines, the only one to receive upgrades for 2008 is the first on the list; different cam timing and other revisions have resulted in better mid-range torque for improved drivability, efficiency and emissions.
The Outback is available with three different transmissions: a 5-speed manual (for the 2.5i and the turbo 2.5XT), a 4-speed automatic (2.5i) or a brand new 5-speed automatic (2.5XT and 3.0R).
This latter unit has been substantially improved for 2008 and now delivers shifts in 0.2 seconds flat. While this 5-speed doesn't come with paddle-shifters (as in the 2008 Legacy), it does feature the same automatic throttle blipping on downshifts. Slick.
Hi-tech engine management
The Outback 2.5XT and 3.0R now feature Subaru's SI-DRIVE system, which debuted in the Legacy Spec.B last year. This engine management system enables the driver to select from one of three drive modes that alter the variable valve timing, throttle and turbocharger (where applicable).
In driving the Outback along the hilly terrain around Collingwood, the difference in the three modes is noticeable. While climbing a steep hill, the SportSharp setting provides the added oomph needed to clear the precipice in short order.
The Intelligent mode, on the other hand, encourages the driver to assume a more leisurely pace. SI-DRIVE is not quite a "push-to-pass" button, but it's not that far removed, either.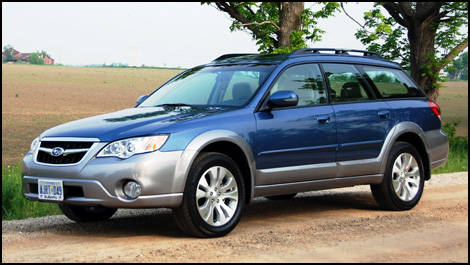 The numerous improvements make the mild off-road-ready wagon generally more refined.