There are few cars on the road today that have the brand image and value that the Civic has. Everybody knows what a Civic is. When someone who doesn't know much about cars has to buy one, a Civic often comes to mind during the shopping process. If everybody's got one, it must be good, right?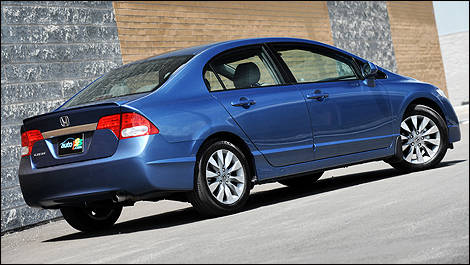 The Civic sedan has a base price of $16,990, while our loaded EX-L with automatic goes for $24,880.
The
Corolla
name also has a strong value, but the age range of buyers isn't as wide as the Civic's, as the younger crowd doesn't seem to consider the Corolla as much. In short, Honda could stop advertising the Civic and it will still continue to sell in significant numbers. That's good, but it doesn't mean that it's all that.
Spacious interior
Honda obviously thought about all shapes and sizes of folks when they designed the doors and seats. It's pretty easy to get in and out of the Civic, and just about everyone can get comfy up front. The rear seat cushion is a little short in the middle position, but the floor is completely flat, so no fighting for foot space.
The Civic's dashboard looks resolutely modern, while the digital speedometer perched at the base of the windshield is practical for checking out how fast you're driving without diverting your attention from the road ahead. The car's switchgear is straightforward and the wheel tilts and telescopes to provide a great driving position.
But leather seats in a Civic? We're not sure on this one, especially when the
Acura
dealer down the street is trying to sell the CSX, a Civic clone that's better equipped and more powerful, but costs thousands more.
The 160-watt sound system is pretty decent and even includes a USB port. However, we lament the lack of
Bluetooth connectivity
, which is standard on every Kia Forte.
Fuel efficiency above all
The Civic's 1.8-litre inline-4 develops 140 horsepower, which places it among the least powerful compact sedans. Equipped with the 5-speed automatic, 0 to 100 km/h acceleration times of 9.9 seconds obviously won't give you a rush of adrenaline, but it's not shameful, either. The cabin can get a little noisy under full-throttle acceleration.
The Civic's dashboard looks resolutely modern.