In my adolescent years, which is starting to feel like decades ago, a Honda Civic was a car for teenagers. As a small, light, cheap to operate hatchback, the Civic and its CRX variant were the weapons of choice for those of us who were finishing up high school, starting college and had weekend jobs pumping gas.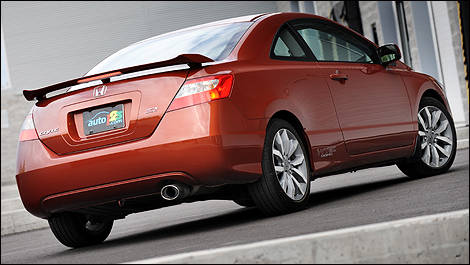 The Civic Si's mix of performance, maturity and refinement has what it takes to please many.
I was an exception, of course, with my spacious but nauseatingly slow Subaru wagon. I was a rebel back then, but I was getting smoked at stoplights by little old ladies in their Ford Tempos. With its 108-hp engine, the Civic Si and CRX Si were trendy and fun to drive, and any other kid that had one made dorks like me extremely jealous.
Today, the Si is still around, and like us, it has aged and matured, but it's still a good first step towards owning a sports car.
High on power, low on torque
With 197 ponies on tap, the
Civic Si
is no slouch. But like many small, performance-tuned engines with variable valve timing, Honda's i-VTEC 2.0-litre inline-4 is high on horses but short on foot-pounds. Developing its peak power at 7,800 rpm, just 200 cranks short of its lofty redline, the engine's torque hits the ceiling at 6,100 rpm while twisting out 139 lb-ft.
What that means is that if you want to squeeze every drop of performance out of the Si, you have to rev that sucker up to its redline all the time, which isn't really a mature way of driving. Then again, the Si has the mission of being a performance machine, and does it well.
It's just that Volkswagen has a 2.0-litre turbo engine that consumes just a little more premium fuel but has much more low-rpm torque. The Si's engine is a screamer, not a stump-puller.

Good performance
Pushing the car to the redline does produce good results, however: 0 to 100 km/h is yours in 7.8 seconds while the quarter-mile is reached in 15.5 seconds at 145 km/h. Our
fuel economy average
of 10.5 L/100 km reflects this; drive more casually, and you'll definitely get better results.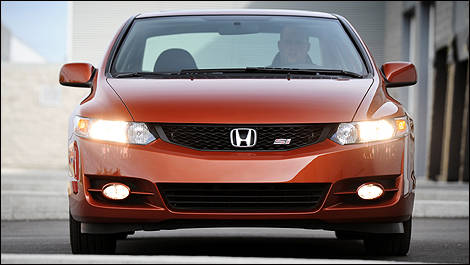 One thing Honda has done right is to include a limited-slip differential.