The fat little SUV
Infiniti chose to pump the
previous version
of its SUV full of steroids. If massive is what you're going for, it's got it, but forget about practicality. Behind the wheel, every last point of reference for driving and parking your fat little car is lost. That's why it's equipped with a landslide of electronic gadgets to help you arrive safe and sound.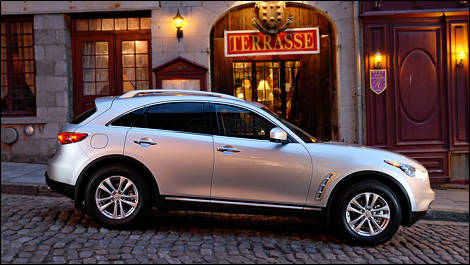 Because of its unconventional shape, it keeps us on the alert in the city.
Cargo space
The roof's sloping line reduces the cargo space even more. Infiniti was looking to create a sporty vehicle, but it sacrificed its utility side. You have to count on the folding seat backs to stash your gear and shopping bags. I personally found that the trunk floor was too high to slide objects in. But a trip to IKEA confirmed that the
FX35
can still fill the needs of a bookshelf buyer.
Comfortable
The FX35 features an excellent dual-zone air conditioning system that keeps the cabin nice and comfortable. The seats don't support the upper back that well, but that might be morphology-related. The rear is spacious, but the seat backs prove much too heavy when it's time to fold them down or put them back up.
One of the FX35's strong suits is comfort. To our great surprise, passengers enjoy a gentle ride even on bumpy roads. But the wheels dispel the cabin's tranquility with their excessive noise, making it very hard to savour the excellent BOSE entertainment system.
Cockpit
In an
FX
, the driver's seat can truly be qualified as a cockpit where the occupant has access to countless gadgets to help him drive. A number of controls are well located as well as easily identifiable and accessible, namely those found on the steering wheel and the centre console. But those found under the dash are out of the driver's sight. Finding them involves some fumbling around. The button that deactivates the AWD system is especially hard to locate. It's very badly positioned, as we always have to deactivate the system when setting off. Why, is something I haven't yet grasped. It would be useful to engage the system when it's raining or when driving on snow- or gravel-covered roads, but here, we have to deactivate it because a bell reminds us that we're driving on a dry road and that it's currently of no use. A programming error, perhaps?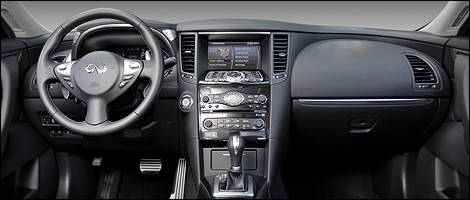 In an FX, the driver's seat can truly be qualified as a cockpit where the occupant has access to countless gadgets.