Social media being what it is, we, at Auto123.com, posted some pictures and comments about our upcoming comparison road test on our
Auto123 Facebook page
. We listed the cars slated for evaluation and shortly afterwards, comments came pouring in, asking why this car and that car were not included in the test. First, we can't test them all. Second, we limit ourselves to a segment and third, we try and have them carry similar powertrains and levels of kit.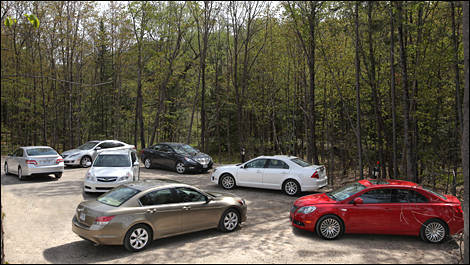 (Photo: Philippe Champoux/Auto123.com)
That being said, we decided to tackle the largest category of vehicles, the one that still represents about half of all the cars and roughly 20% of all new vehicles sold in North America. Having a winner in this segment, for a carmaker, is a huge deal. We decided to pit one of the latest overhauled members, the
2011 Hyundai Sonata
, against established favourites such as the
Toyota Camry
and Honda Accord (both perennial bestsellers) and a newcomer that has essentially flown in under the radar, the
2011 Suzuki Kizashi
.
Although our test included 7 cars, there were many more that could have been added, such as the Chevrolet Malibu, Volkswagen Passat, Nissan Altima and Dodge Avenger. Why they were excluded can be summarized by the age of the model, low sales volume or simply lack of availability.
For these cars, we conducted a real-world test drive. We tackled the highways and byways around the Greater Montreal Area, urban settings and country roads. The premise of this test is to determine which, if any really, of these tough rivals can handle a small family, their gear and not bore the occupants to certain death. Value for the almighty dollar rings high on the criteria list, as does styling, functionality, equipment and the other important factor, how it drives. The following pages recount the comments of our 7 judges.
So here they are Canada, your competitors for the title of best new mid-size sedan: 2010 Ford Fusion SEL, 2010 Honda Accord EX-L, 2011 Hyundai Sonata Limited, 2010 Mazda6 GT-I4, 2010 Subaru Legacy PZEV, 2011 Suzuki Kizashi and 2011 Toyota Camry SE. All vehicles were equipped with a 4-cylinder engine and an automatic transmission.