Crossovers might be taking over the roads as the glamorous, go-to family hauler of choice; however, for thousands of Canadians, the traditional sedan is still the model of choice for getting around with the kids.
The Canadian used marketplace is full of family sedan choices from around the globe. From simple to luxurious, and from pricey to affordable, the options in a few-year-old, family-ready four-door are nearly limitless.
Below, we present a cross-section of the used family sedan marketplace with a look at some of the most popular models from a variety of countries, years and price ranges. Many more options exist, so be sure to check out our used-car listings and full selection of used-car reviews for more details if the candidate you're considering isn't on our list.
And remember: For maximum confidence, seek out a model with full service records, preferably with a good portion of factory warranty remaining and from a certified pre-owned program. Also, note that a mechanical inspection can be completed on the cheap in about an hour on the model you're considering to be sure no nasty surprises are laying in wait.
2007 to 2011 Toyota Camry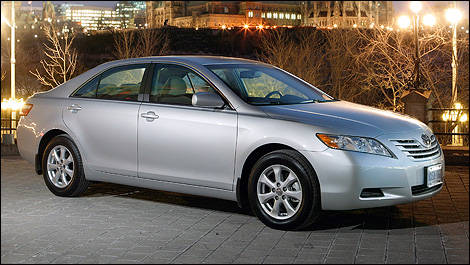 2007 Toyota Camry (Photo: Toyota)
The Draw:
A high-performing V6 engine, spacious cabin, comfortable ride, and plenty of utility were commonly praised by owners of this generation of Toyota's elemental family sedan. Fuel mileage is rated strongly, too as is the up-level stereo. Look for 4- or 6-cylinder power, an available hybrid, and numerous trim levels and option packages to suit up the Camry to your exact needs.
What to Check:
Check the condition and level of the engine oil, and make sure the seller was fond of frequently doing the same, as well as sticking to factory-prescribed oil change intervals. This is good advice for any used vehicle, though numerous Camry owners complained of beyond-normal oil consumption between oil changes.
Have a mechanic or your Toyota dealer check the oil lines that pressurize the variable cam timing system on the V6 engine. These were known to rupture, which can make a heck of a mess, and may cost you an engine. A Toyota mechanic will be familiar with the issue and be able to diagnose and correct it quickly, if applicable. Finally, check all body panel edges for signs of rust and be sure the automatic transmission isn't slipping or shifting roughly.
Note that these issues are fairly infrequent. If the model you're considering checks out, you're well on your way to enjoying one of the most reliable family sedans on the road.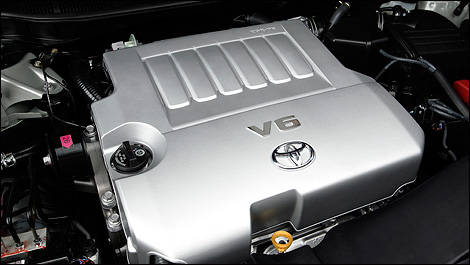 2008 Toyota Camry engine (Photo: Toyota)