The Corolla is expanding with age. At one time, Corolla was the smallest car that Toyota imported. It was about the size of what the
Yaris
is today. Toyota's problem is making sure that buyers who grew up with
Corolla
come from the broadest spectrum possible (no pun intended). That means keeping up with trends and giving buyers what they want. For 2010 the Corolla is the same 10th generation (body shell anyways), but different (with over 100 improvements or changes) over last year.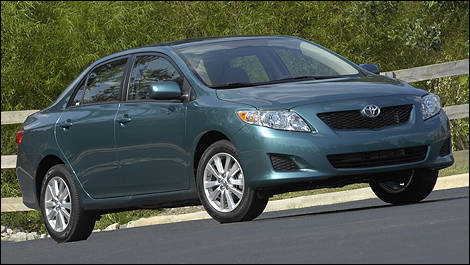 I didn't actually expect to have fun driving, particularly on our icy roads. (LE model) (Photo: Toyota)
Trim Levels and Seating
Four trim levels are available, the CE, LE, S and sporty
XRS
. My "toy" of the week was the LE version and it did come fairly comfortably equipped. Cloth seats are the order of the day and you can forget about seat heaters. You need to step up to the Leather package in the S to get a toasty posterior. The perches are actually quite comfortable. I found that the mechanical adjustments provided enough of a range to keep me at ease and in a good driving position.
I never actually tried the back seat, but I do have it on reliable authority that as long as I keep my seat forward a notch or two, it is more than acceptable. Hip room, shoulder room and head room are all pretty good. If you have long legs, you may be a bit tight on knee and leg room. The back bench also is a 60/40 folding unit that can give you a good expansion of cargo space because of direct access to the trunk.
Instrumentation
Back up front and in the driver's seat, the gauges are large and easy to read, the tach and speedometer dominate the instrument pod with secondary rolls going to the water temp and fuel level gauges. All other functions are monitored by warning indicator lights. These past few days the one I see the most of is the traction control light. It is a nice bright yellow one. Yellow in a modern car means pay attention, there is something not right. Red lights mean something is wrong and you should fix it NOW.
Power Train
Power for the Corolla LE comes from a 1.8 litre DOHC, 16 valve inline four that has variable valve timing and all the other hot rod tricks that help modern engines make horsepower and still get good fuel economy. Only the sport XRS gets the bigger 2.4 litre four.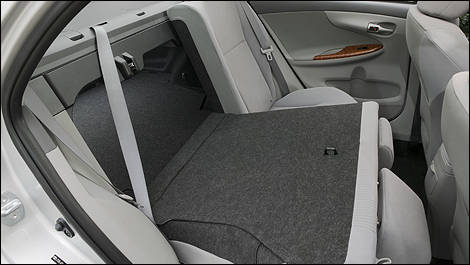 The back bench also is a 60/40 folding unit that can give you a good expansion of cargo space because of direct access to the trunk. (LE model) (Photo: Toyota)