It is inevitable. We can't escape it. It will happen. Yes, that mid-life crisis, panic attack or desire for something new will get to us. Possibly more common in males than females, this moment makes the weaker amongst us act out in occasionally questionable ways.
If that action involves acquiring a car then it's all good. The wife/spouse/significant other/girlfriend will understand. Won't you, babe?
There are countless cars on which to spend them hard-earned bucks, and as such I propose that we thinking men (as few and far between as we might be) invest in something that will not only guarantee good times away from the house, but that will (if not appreciate in value) not lose too much of it.
And here's that suggestion: 2011 Porsche Boxster Spyder.
A fully backed used Porsche. There is but one alternative.
And that's a new Porsche. These automotive gems made in Stuttgart (for the most part) with love are not exactly known for being affordable -- hence why purchasing a gently exploited Porsche can be a sensible option.
Porsche introduced a Certified Pre-Owned (CPO) program a few years back to encourage potential buyers into showrooms to pick up a used #cartreasure. As stated, Porsches are not inexpensive to run so a fully inspected and guaranteed Porker makes the entire purchase and ownership far more appealing, that is if the car wasn't enough.
As an ode to their CPO, Porsche's now been including used examples of their product on Canadian press fleets. I spent a week with a 2010 911 Targa 4S in the summer of 2013 and found that the car was so good that I further fell into want for a Porsche because of how good the car was. Knowing that I'll never be able to afford a new one, I could not be happier with the discovery. Right, dear?
The Ultimate Boxster
A few weeks before my time with the Spyder, I'd logged a few kilometers on a 2015 Boxster GTS with the coveted 6-speed manual. Although the most hardcore of the current 981 crop of Porsche's drop-tops, the Spyder takes or rather took the Boxster to its purest form.
The Boxster Spyder was introduced in 2010 to tons of praise, and hate. The roof being the real culprit to total and complete ownership bliss. To those who said poo to the manual soft-top, I say: More chances for me to get my hands on one in the next few decades.
The Boxster Spyder featured a 320-horsepower (10 more hp than the S) 3.4L flat-6 and a slew of weight-reduction tricks good for a 200-lb drop in girth over the regular Boxster S.
A 6-speed manual 'box was standard and a 7-speed PDK automated manual was optional. The resulting lightweight higher-powered Boxster turned out to be one of the best driving, most rewarding small cars to drive from the last decade.
The Spyder felt faster and more visceral than the GTS, more focused and honed. Throttle response was instantaneous, marred marginally by the PDK's reaction time. Once underway, the Spyder was stupendously quick and remarkably agile. I must say that had it sported the manual transmission, I would have gotten into some serious trouble…
And now, one could be yours because you can and should.
Pricing is everything
A brand new 2011 Porsche Boxster Spyder retailed for $72,900 without options. As a zero-option Porsche does not exist, my tester was loaded to the gills with goodies such as Porsche Carbon Ceramic Brakes (PCCB) ($11,110), cocoa leather ($3,840), Sport exhaust system ($3,410) and ye olde PDK ($4,660). Total damage topped out at a staggering $104,280.
But now! But now, in 2014-2015, you could purchase this same car for under $75k with roughly 15,000 km on the clock.
3 years old and…
And only one element of the car reminded me that this was not a new car.
No, there were no rattles or any such issues typically related to an aging car. Sadly, and only because of the speed at which technology evolves, the PDK was the culprit, the betrayer of the car's age. Mind you, if you've never driven a new '13-'14 or '15 Porsche equipped with the PDK, you'd never know. The 3-year-old PDK was slow and clunky, compared only to today's PDK.
Otherwise, the Spyder's PCCBs have lost nothing of their highly desirable nature or braking power. Same goes for the sharp unobstructed steering that communicates as well as it dictates the front wheels. The ride is all about ultimate handling and, as such, may not be the most comfortable but shod with the proper rubber, the Spyder will never disappoint under hard high-performance driving on a track, for example.
As the level of amenities is limited on the Spyder, few things can/will go wrong. Expect minimal creature comforts, as the radio is a no-cost option. What you can expect are grippy sport seats and, if you're lucky, the optional SportDesign steering wheel.
And still dead sexy!
Draped in Carrara white with the black soft-top, the 987 Boxster Spyder is nothing short of a showstopper thanks in no small part to its lower ride height, "Porsche" decals on its flanks, integrated spoiler, and cocoa brown leather interior. Click through the gallery. I dare you to tell me I'm wrong.
For the money
Yes, for that kind of coin, you could buy a BMW Z4, an Audi TT or even a new base Boxster. But none of these are as special as the Spyder.
I strongly believe that the Boxster Spyder will satisfy so many criteria where the purchase of a mid-life crisis car is concerned that I would deem it a safe, reasonable, and well researched acquisition. I knew you'd agree, honey.
Road Tests and Reviews

Consumers
2011 Porsche Boxster Spyder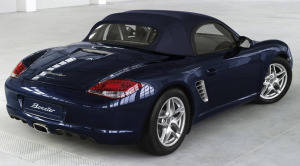 2011 Porsche Boxster Spyder