At this year's
Automotive Journalists' Association of Canada TestFest
, I had an adrenaline-dosed spate behind the wheel of the 2012 Chrysler 300 SRT8. On the closed track, the big sedan delivered brute force, while on public roads it settled down and regained its luxury-car civility.
The vehicle's handling prowess and otherwise absorbent ride quality can be attributed to its adaptive damping suspension, which knows when to be firm and not. (Photo: Chrysler)
2012 brings 6.4L of hostility
It wasn't long ago that Chrysler's 6.1L V8 HEMI engine was considered massive by modern standards; well, think again. For 2012, the SRT8 engine displaces a whopping 6.4 litres (that's 392 cubes for the retro) and belts out 470 hp matched by 470 lb-ft of torque.
Not only does the bigger HEMI create more clout, it does so more efficiently thanks to Chrysler's fuel-saving MDS cylinder deactivation technology.
The ability to cruise on four cylinders when power demands are low enables the big sedan to achieve ratings of 15.0L/100km and 8.7L/100km, city and highway driving respectively. These aren't stellar by any stretch, but relative to power and performance, they provoke less criticism.
The same 5-speed automatic transmission backs the 6.4L monster that backed its 6.1L predecessor. Shift paddles enable performance shifting while a Sport Mode revises such dynamics as shift mapping, throttle response and electronic stability control intervention levels.
Five cogs in the transmission is quickly becoming yesterday's news in relation to performance luxury cars. Chrysler has an 8-speed autobox in production that will hopefully find itself adhered to the HEMI, and when that happens, both fuel economy and acceleration ability should take a leap forward.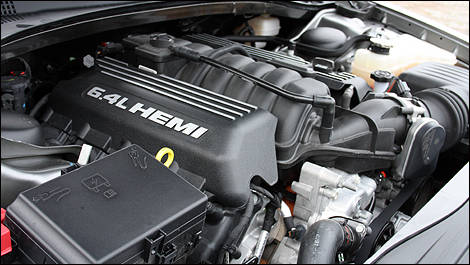 For 2012, the SRT8 engine displaces a whopping 6.4 litres (that's 392 cubes for the retro) and belts out 470 hp matched by 470 lb-ft of torque. (Photo: Michel Deslauriers/Auto123.com)