If you're into cute, then the 2012 Fiat 500c is definitely your ride.
The particular 500c we borrowed for this report was almost too cute. With those big, round headlights, off-white paint scheme, and deep-red retractable fabric top with matching red leather seats, it gave the impression of a red-collared white Maltese puppy wanting to be picked up and petted. How can you look into puppy eyes like that and give the thing a legitimate shake down? Well, we tried...
The natural tendency would be to compare the 2012 Fiat 500c to the
VW Beetle
and the MINI, who also work the retro, convertible and cute thing.However, I'm not sure the 500c is comparable. It's quite a bit cheaper, a bit smaller, and goes alone down that retractable-big-sunroof path. It's big on style, value and doing its own thing -- just like its intended audience. Thumbs up.
Not Cabrio, more cabrio-ish
Sometimes "cabrio" or "cabriolet" is synonymous with "convertible." This is not that time. The 2012 Fiat 500c's fabric top is big and rolls down a long way, but not "all" the way down. And the roof rails remain very much up.
The 2012 Fiat 500c really has to be considered a car with a really neat retractable sunroof, and not an outright cabriolet or convertible.
The main problem with the 2012 Fiat 500c is how the fabric bunches up at the back, obscuring rear-view vision. However, get past that, and it's pretty neat. The retractable roof opens up a big space -- or a medium space, if you like -- and open-top turbulence and noise are less than you would imagine.
When the roof is closed on the 2012 Fiat 500c it's cool, too; the fabric gives the car another interesting visual texture, especially when it's in a contrasting colour. The roof seems well insulated too, road noise seemed on par with hard-top models.
Zippy, but not too zippy
Cabrio's have the same powertrain and performance as other 500s, which is to say; they're zippy, but not crazy zippy. These Fiats are fun to drive, but they would be more fun with more power.
However, the Fiat 500c's 1.4L MultiAir engine, with 101 horses and 98 lb-ft of torque impresses with its civility and fuel efficiency. Our 5-speed manual car was rated at 6.7 city and 5.1 highway (L/100 km).
Shifting is a bit notchy and the 2012 Fiat 500c clearly prefers delicate and accurate manipulation.
Steering is nice and easy around the parking lot, and remains a bit too easy around the city (for me at least), but tightens up nicely at highway speeds. The Sport button in the 2012 Fiat 500c tightens the steering as well. I kept it on all the time.
The Fiat 500c handles decently, not oversteering or understeering. It doesn't quite feel like it wants to be flung around. But that's OK, it's an easy-driving city car, not a sports car.
The most surprising dynamic aspect in the 2012 Fiat 500c is its comfortable ride, especially for such a short vehicle. It makes around-town zipping a pain-free affair.
Inside information
The 2012 Fiat 500c interior is funky and fun.
There are no rotary dials for any of the HVAC or stereo controls, so you have to press smallish buttons to make things happen. However, everything worked well and the design was consistent and attractive.
The driver's position suited me well, even though the seat cushion is short-ish and there is no telescopic steering wheel. The roundness of the overall design nets good headroom, and the 2012 Fiat 500c actually feels spacious (up front) for its size.
The rear seating area is tight, of course, but it's definitely useable (as long as you don't play in the NBA).
Price as tested
Fiat's Cabrio series, known as the 500c, is comprised of two models: Pop, which starts at $19,995; and Lounge, which starts at $22,995.
Standard on all Cabrio models are seven air bags, A/C, power windows and door locks, heated mirrors, cruise, Bluetooth, USB port, and trip computer.
Main elements of the Lounge package are nicer wheels, more body-coloured bits, more chrome, heated mirrors, and leather seats: cosmetic stuff mostly, yes, but bits that actually make a visual difference and add more cuteness.
Our Lounge 2012 Fiat 500c tester was optioned with TomTom nav system ($495), tri-coat paint ($300), compact tire ($200), upgraded rims ($250), and wind deflector ($150), for a grand (pre-tax) total of $24,390 -- a lot of style and kit for the money.
Road Tests and Reviews

Consumers
2012 Fiat 500c Lounge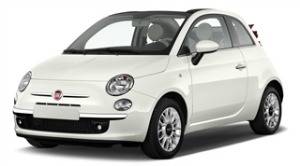 2012 Fiat 500 Lounge