I'll admit, my expectations were not high when I was handed the keys to the 2013 Buick Encore. I'd experienced the
Chevrolet Trax
and been none too impressed, so I assumed the Encore would follow suit. Well, I was pleasantly surprised by the entire package, but not overly impressed, either.
Branded as the luxury vehicle built to fit your life, the 2013 Buick Encore is a compact crossover for the modern, urban singleton.
What is the Buick Encore?
The Buick Encore we know has only been on our shores since the beginning of this year. First unveiled at the 2012 North American International Auto Show, the Buick Encore is the luxury brand's first subcompact crossover. In Europe, the Opel/Vauxhall Mokka has been on sale and on the roads since the end of 2012.
The Buick Encore answers Buick customer's needs for a bit more space and ride height in a compact, somewhat luxurious package that's at home in a city setting.
2013 Buick Encore Price and Specs
With three different models available (Convenience, Leather and Premium) as well as FWD and AWD for each, there is a healthy selection of Buick Encores to choose from. A front-wheel drive Buick Encore Convenience starts just below the $30k mark, whereas the fully loaded Buick Encore Premium AWD comes in at just over $36k.
Regardless of which model you choose to bring home, you'll have the same engine under the hood: a 1.4L turbocharged ECOTEC good for 138 horsepower and 148 lb-ft of torque. There is only one transmission choice: a 6-speed automatic.
Driving the 2013 Buick Encore
There's really nothing to write home about when it comes to driving the 2013 Buick Encore, which is why I've been staring at this section trying to figure out what I'm going to tell you about. I guess, then, that it's a good thing as there was nothing glaringly wrong with the way the 2013 Buick Encore drove.
Everyday jaunts on the highway and around town were completed without fuss. I never wished for more power or oomph from the 1.4L and felt it was ready to perform when asked. The 6-speed kept up with the right gear it needed to be in and never felt confused or overwhelmed.
I felt the ride was a bit aloof and float-y but then I suppose that's the idea behind driving a Buick, right? Comfort in your luxurious Buick is what you want when you sign on the dotted line at the dealer.
Inside and Out of the 2013 Buick Encore
You could call the exterior look of the 2013 Buick Encore "cute" if you wanted to. You'd not be remiss in seeing its pug-like front fascia and rounded little rump as adorable. Heck, I even made those comments throughout the week. As classy and sophisticated as Buick hopes its Encore to be, it can't escape that cutesy comment thanks to the vehicle's squat, shrunken stance. Ice-blue accented headlights add a slightly human look to the front of the 2013 Buick Encore that I came to really like over the week.
Of note; I loathe Buick's chrome portholes on the hood. I know, I know; it's Buick. It's one of their signature exterior details. However, if I can buy said details at a local hardware store then stick them on my Honda (should I desire) they become a little less special, no?
Inside, however, I was impressed with the 2013 Buick Encore's layout and features. There is a luxurious feel to the materials used, and you do feel like you're in an upscale vehicle thanks to the leather seats and leather-wrapped steering wheel (in my Leather model, of course). I've also been a fan of Buick's IntelliLink since I first used it. The screen is great to look at, fast to respond, and easy to use.
There's also plenty of room in the 2013 Buick Encore. I was sure the back seat would be a tight fit, but I was wrong. My son had plenty of space to stretch out his legs even with a passenger in front of him. And the trunk is a decent 533 litres and the load height is spot on for someone my height and stature (read: short).
Comparing the 2013 Buick Encore
While the Buick Encore has a lot to offer the young urbanite in search of something a bit roomier and off-the-beaten-track of go-to cars, I'm not quite sure it's got the necessary qualities or personality to push it above and beyond competition like the
MINI Countryman
,
Nissan JUKE
or
Subaru Crosstrek
.
Road Tests and Reviews

Consumers
2013 Buick Encore Leather AWD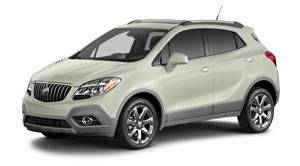 2013 Buick Encore Leather AWD