When you say the word "Jeep," certain things come to mind; mud-covered sides, huge treaded tires, weekends in the woods, bandanas, Labrador dogs, surf boards, and khakis with hiking boots. While I wasn't hoping to rock a bandana with a few chocolate Labs in the back, I was expecting the Jeep Compass to be a bit more "Jeep" than it was.

While the starting price of the Jeep Compass is highly attractive, the illusion that its more Jeep than it actually is quickly wears off when you drive it for any extended period of time. This isn't a bad vehicle, in fact it's quite good and I enjoyed my time behind the wheel. Just know that you won't be making any Wrangler-driving buddies when you pull up in your Compass (you've been warned).

What is a Jeep Compass?
A compact crossover SUV, the Jeep Compass first appeared in 2006 and opened the city streets for buyers in the market for the Jeep nameplate with 4x4 capabilities, and the ability to dwell happily in urban settings.

2014 Jeep Compass Limited 4x4 Price and Specs
With eight models available in the Jeep Compass lineup, and a starting price of $16,245, there really is a Compass for everyone and every budget. While the bottom-of-the-barrel Compass Sport 4x2 seems bare, it still comes well equipped with basic all-weather road capabilities.

At the top of the Jeep Compass stable sits the Limited 4x4 (my particular tester) with a starting price of $25,345; and all the bells and whistles to go along with that number. From a leather-wrapped steering wheel to a new Saddle Tan leather-faced interior and 18" aluminum wheels, this 4x4 Jeep Compass is a stylish city dweller with a wild-ish, off-road side.

Two engines are available: a 2.0L good for 158 horsepower and 141 lb-ft of torque, and a 2.4L that'll spit out 172 horsepower and 165 lb-ft of torque. Front-wheel drive and AWD are both available (4x2 vs. 4x4), and there are three transmission choices: a 5-speed manual, 6-speed automatic, and a CVT.

Driving the 2014 Jeep Compass Limited 4x4
No, you are not going to be able to follow your newfound Wrangler buddies into the woods with the 2014 Jeep Compass or rather if you do, you're not going to get very far.

Don't get me wrong, this is a great little winter crossover with a solid 4x4 system that helped me through some sticky (or should I say, snowy) winter situations. However, as far as being a rough-and-tough Jeep, the Compass isn't quite that.

It is a city dweller. It's small, nimble-ish (when asked), and easy to park. Driver seating is high so you feel like you're in a bigger vehicle than you are, however, interior space is a bit cramped (more on that in a bit). As I was driving the 2.4L with the 6-speed autobox (thankfully, no CVT!), I liked the Compass Limited's get-up-and-go.

Fuel economy numbers from Jeep are impressive: 7L/100km on the highway (for the Limited) and 9L/100km in the city. I hovered in the 10L range combined throughout the week with way-below-zero temperatures and snowy parking lots to play in …

Inside and Out of the 2014 Jeep Compass Limited 4x4
I'm not sure Jeep will appreciate it, but the Compass Limited 4x4 is a feminine vehicle. It just looks a bit too gentle, too kind. It's not out to cause confrontations on the road, not there to fight. While it recently ditched the signature Jeep front end in 2011 (round lights and large fence-like front grille), that's not necessarily a bad thing. The new look is much more demure and laid-back, and also much more "city."

Inside, the 2014 Jeep Compass Limited 4x4 is all Jeep. Simple, to-the-point controls are present. In fact, the gauge cluster is so simple, I thought something was burnt out or not working at first. So used to overly stimulating clusters am I that it took several minutes to adjust to this bare-bones look. However, I like it. It's functional, and that's really all you want/need in a vehicle like the Jeep Compass.

The seats are comfortable, if a bit small. And while the 2014 Jeep Compass Limited 4x4 offers lots of headroom, the legroom in both the front and back is questionable. My 2-year-old's feet were smack up against the passenger seat when someone was up front with me. This is most definitely a compact crossover. However, the trunk will swallow up to 2,075 litres of stuff with the rear seats folded down.

Comparing the 2014 Jeep Compass Limited 4x4
Unfortunately, for the Jeep, it has some pretty impressive competition ahead in everything from looks to AWD technology. The brand new Subaru Forester is a big one, and the Kia Sportage is another. The Jeep Compass is a viable option at a really good starting price that will surely attract buyers on that reason alone. However, the other options out there are slightly more attractive in the long run even if they are slightly more expensive.

Road Tests and Reviews

Consumers
2014 Jeep Compass Limited 4X4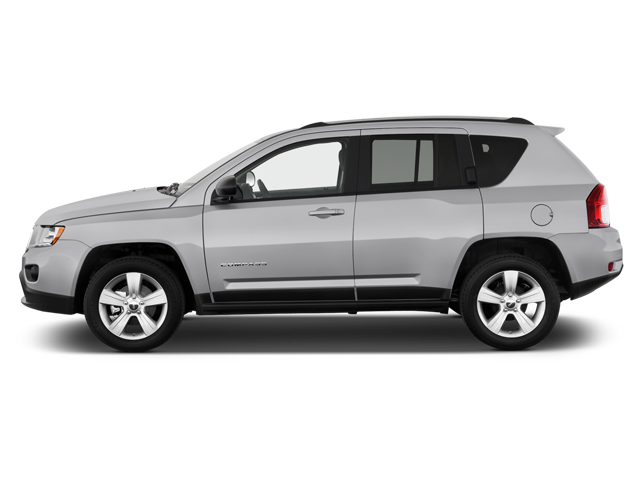 2014 Jeep Compass Limited 4X4