When German automaker, Porsche, introduced the four-door, four-seat Panamera sport sedan in 2009, I'm sure there were quite a few enthusiasts who rolled their eyes and shook their heads questioning its existence. Its long hood, curvaceous body and polarizing style kept everyone from jumping on its initial bandwagon. However, those who looked past the sheet metal, got behind its wheel, and took it for a spin perhaps wondered why they ever questioned it in the first place. Now, it's one of Porsche's bestselling vehicles with over 100,000 units gracing driveways, worldwide.
What is the 2014 Porsche Panamera?
For 2014, the Panamera family gets bigger, literally! Three new models were added including the
Panamera S E-Hybrid
(the first plug-in hybrid from Porsche) and the
Executive extended wheelbase
versions based on the Panamera 4S and Panamera Turbo models.
The S and 4S say
auf wiedersehen
to the 4.8L V8 and
guten tag
to a 3.0L twin-turbo V6 engine. Creating a magical 420 horsepower and 384 lb-ft of torque, no matter how comfortable you get this is no sleeper of a vehicle. That's up 20 hp and 15 lb-ft over the V8, and you're getting better fuel economy. Bonus.
Let's talk hybrids: The new S E-hybrid amps up the power -- get it? Amps? I'm so clever! Or not -- with a more fortified motor and a higher-performance battery, which can easily be charged in the comfort of your own home or at a public charging station.
2014 Porsche Panamera Price and Specs
When talking about the ins and outs of the 2014 Porsche Panamera S E-Hybrid, its motor produces 95 horsepower (in comparison to 47 hp from the S hybrid). There's a combined power output of 416 and 435 lb-ft of torque delivered by an oh-so-smooth 8-speed transmission.
The 9.4 kWh battery comes with increased capacity over the previous battery 1.7 kWh and charge time takes a mere 2.5 hours when hooked up to a 240V power source.
Pricing for the 2014 Panamera S E-Hybrid starts at $113,300, while the 4S Executive model jumps to a starting price of $143,600.
Driving the 2014 Porsche Panamera
Let's start off with the Executive variant of the Panamera, which is offered on the 4S and Turbo models. What does "Executive" mean? It denotes the ability to stretch out just a bit more. Its wheelbase has increased by 5.9" adding comfort in the cabin for rear occupants.
As I was having an "Executive" experience, my copilot made herself comfortable in the back. She even asked, "Can you feel the additional 5.9"?"
To which I replied, "Actually, no. The car still feels great up front. Can you feel the 5.9" in the rear?"
Our childish minds got the best of us. The best part of the conversation? We were talking very matter-of-factly until we fully realized the salacious undertone of our "size matters" discourse. To recap, you can feel the spaciousness in the rear (4.7" of added legroom), but its driving dynamics aren't compromised in the process; a win-win for both driver and passenger.
Steering it away from "size," the buyer of an Executive also receives additional standard equipment. Furthermore, both come with Porsche's all-wheel drive system, 7-speed PDK transmission, and a divine ride quality.
The S E-Hybrid left its driver (aka, moi) smiling from ear to ear after our rendezvous. Yes, it has the "green" element to it, but it's a Porsche, so the performance element is not forgotten along the way. Its 0-60 mph time is a swift 5.2 seconds and its top track speed is 167 mph (276.2 km/h). Yummy. Talk about electric qualities. You also have the ability to match the S E-Hybrid with what I call the "fun button;" Sport Plus. Change the gears manually, take on the corners, and just enjoy life.
In life, you'd like to think you trade up after a relationship ends. You say to yourself, "Wow, I'm so glad we're over. I'm so much happier in my current relationship." You could say that about the outgoing V8. Yes, its potency was something to brag about, but the 3.0L V6 is a trade-up. It uses less fuel (in comparison to the V8) even when you're not conservatively using the throttle. You still have the excitement element, and the whine of the twin-turbos is something I don't easily tire of. High five.
Inside and Out of the 2014 Porsche Panamera
To call the Panamera an influential vehicle is an understatement. It has done a fabulous job of inspiring other Porsches with regards to interior setup. The driver has their controls and the passenger has theirs, too. Porsche keep it simple. I like that. With room for four and decent sightlines, you're in good hands behind the wheel of the 2014 Porsche Panamera.
Comparing the 2014 Porsche Panamera
If you're cross-shopping the Panamera, the
Audi A7
,
BMW 6 Series Gran Coupe
and
Mercedes-Benz CLS
are some other potential suitors.
Road Tests and Reviews

Consumers
2014 Porsche Panamera S E-Hybrid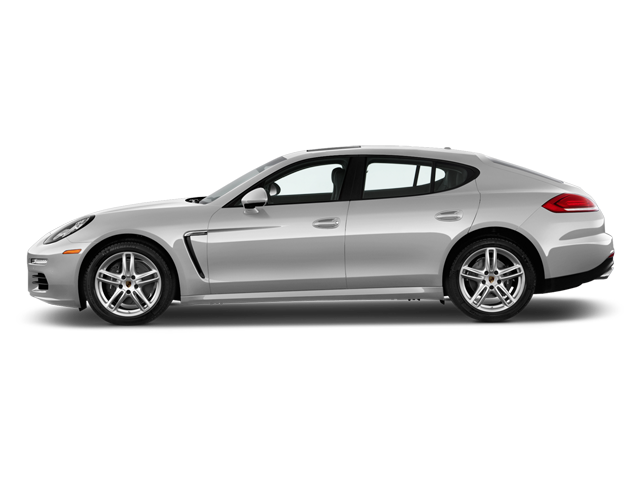 2014 Porsche Panamera S E-Hybrid