Test-driving the crossover SUV marketplace is like visiting an international 100-item buffet restaurant with numerous tempting choices designed to whet the appetite. From beneath the heat lamps, crispy, tangy, steamy and delicious options call out for your consideration, and you can have a nibble or two of everything that looks appealing.
But alas, one can only bring one tasty crossover SUV home to the garage—meaning that when the heat-lamps are replaced with dealer showroom lights and the breading, chicken, salad and sauces give way to sheetmetal, glass and plastic, there's an important choice to be made.
What is a 2014 Subaru Outback?
The Japanese-designed, Australian-named, American-built Subaru Outback is one of the crossover SUV buffet's most highly-sensible station wagon crossover medleys -- cooked up to target folks shopping a vehicle with a tasty combination of safety, fuel mileage, driving confidence, functionality and low running costs.
Packing decades of experience building reliable, no-nonsense All Wheel Drive (AWD) models, the Outback capitalizes on Subaru's gleaming reputation amongst active and levelheaded shoppers.
2014 Subaru Outback Prices and Specs
My basic tester came in from under $28,500 with a six-speed manual gearbox, but the addition of the CVT automatic transmission spiked the price to about $29,800. An atmospherically-responsible 'PZEV' designated model can be had from $30,495, while Touring and Limited Packages provide opportunity to spike the Outback's price into the high-thirties with four-cylinder power. A six-cylinder model is available from $34,495 and tops out just under $40,000 with all the goodies.
My tester got none other than Subaru's 2.5L BOXER 4-cylinder engine with 173 horsepower, and the 3.6L BOXER 6-cylinder mill outputs 256. In any case, as it is with all Subaru models, All Wheel Drive is standard.
Driving the 2014 Subaru Outback
Getting in and out is simple—you just plunk down a little, but still get a good forward view of the road. This might just be the perfect ride height for someone after a commanding view without stepping up or climbing in.
Outback's turning circle is tight and all-around visibility is pretty good, so parking the Subaru is pretty easy. It's easy to drive on the highway too—with wind and road noise levels kept decently hushed, the suspension sprung comfortably but with a hint of taut sportiness, and steering which is slightly sporty but not excessively so.
The included CVT is growing in popularity for its fuel-saving benefits, though it does accelerate like a ski-doo at full throttle, with no shifting, which feels weird. However, driven gently, drivers will likely appreciate the smoothness, and how engine RPM stays virtually locked as the Outback accelerates. There are paddle shifters for pretend manual-mode shifting, and better yet, you can save yourself a grand and a bit by going with the six-speed stick that's still offered here with the 2.5L.
Power output is modest and comes with a little more noise and vibration at full throttle than you'll find in a comparable
RAV4
or
Outlander
, though the CVT helps make the best use of the 173 horses, and most drivers will find it thoroughly adequate.
The standard, fully automatic and invisible Symmetrical AWD system sends a touch more power to the front wheels, which is more stable and predictable when the going gets slippery. The tester rolled on less-than-ideal all-season rubber which often made for greasy handling in the snow—but with winter tires, it'd be largely unstoppable.
Notes? Outback heats up quickly when it's cold, the seat heaters are powerful, and the braking system works well to provide quick, straight and drama-free stops even over mixed traction surfaces.
Ultimately, as a product, Outback makes you feel like it's very keen to do exactly what it's supposed to, very, very well. There's nothing mind-blowing going on, but for what you're probably buying it for, Outback does its job exceptionally. It's a wholesome sort of ride.
Inside and Out of the 2014 Subaru Outback
Styling is distinctive but won't blow anyone's socks off—and the fog-lamps and roof-rails were welcomed for adding a uniquely sporty and functional bit of visual flare. Outback's long body conceals a deep, long and wide cargo area, making it easy to load full of your stuff. Rear seats fold flat if you've got to transport area rugs, ladders or six bags of insulation for your shed, like me. And, when you've got people in the back seats, even the largest of them will enjoy plenty of space and headroom.
Up front, the basic tester got heated cloth seats with motorized driver seat adjustment, steering wheel controls, Bluetooth so you don't get a chatty driving ticket and a driver computer. On a test drive of a basic Outback like my tester, you'll likely find everything you need, and nothing you don't.
Comparing the Subaru Outback
My favorite comparison to the Outback is the Outlander, from Mitsubishi. Output and mileage figures are similar, but the Subaru has a more cohesive-looking cabin and a slightly more refined ride. The Mitsubishi offers a superior powertrain warranty, a more refined powertrain and more driver control over its slick AWD system. Test-driving both of these models is highly advised.
Road Tests and Reviews

Consumers
2014 Subaru Outback 2.5i Convenience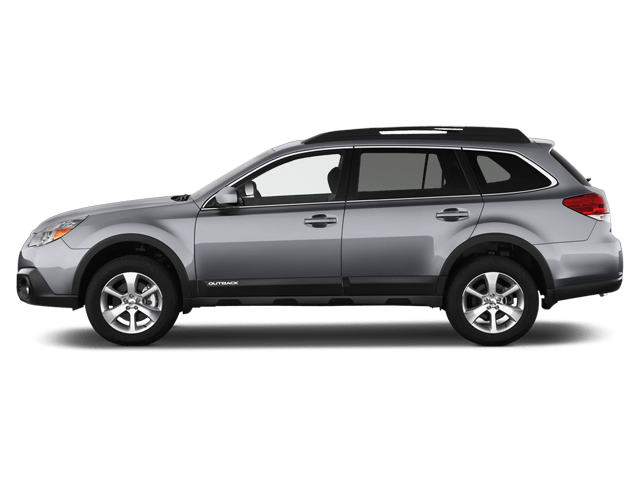 2014 Subaru Outback 2.5i Convenience