I'm not a luxury aficionado. My favourite restaurant has a 99-cent menu; my house is furnished by IKEA; I'm often uncomfortable ordering Starbucks; and I don't typically partake in luxury sandwiches. Also, I frequently lounge about in sweatpants and sandals when nobody's looking.
Still, the benefits of driving a luxury sedan are universally undeniable. You don't need to be a luxury buff to appreciate a quiet and well-damped ride, a tidy interior, a smooth-as-glass engine, and a relaxing atmosphere from which to take it all in.
What is a 2014 Volkswagen Passat TDI?
The Passat TDI is the flagship Volkswagen sedan, and a big German luxury sedan lined with leather and goodies and gadgets, but without the ego, the in-your-face presence or the pretension. It's not glitzy, not designed to attract attention, and you could take it to the mall and nobody would expect you to get out wearing gold chains, spray-tan and a designer man-scarf. Plus, with TDI power fitted optionally (my tester) Passat zeroes in on a modest luxury shopper after low fuel consumption and a lengthy cruising range.
2014 Volkswagen Passat TDI Price & Specs
For 2014, Passat Pricing starts at $23,975 with 4-cylinder gasoline power, climbing to $30,875 in top-grade Highline trim with manual transmission. A TDI-equipped Passat can be had from $26,575 in Trendline grade, and a loaded Highline-grade TDI like my tester starts at $33,475 with a manual transmission.
Yes, manual -- the kind with a clutch. Sign me the hell up!
Numerous packages are available for fine-tuning, and a 3.6L V6 with 280 horsepower can be specified in select models, too.
Driving the 2014 Volkswagen Passat TDI
Passat TDI's ride is creamy, smooth and laid-back with a touch of tautness dialed in for a hint of agility. It's moderately responsive in the handling department, but comfort first -- and all without riding like a great big glob of mayonnaise. One might picture German engineers arguing over the fine-tuning of the suspension, and what they've come up with works very well for long-haul touring without sacrificing any and all responsiveness.
Noise levels on board are appreciably low, including from under the hood where the 2.0L TDI powerplant operates in virtual silence under most conditions.
Acceleration is brisk and torque-y, and remarkably smooth and uninterrupted thanks to the available Direct Shift Gearbox (DSG), which works like an automatic and fires off gearshifts so smoothly and quickly that you hardly notice it shifting it all. Paddle shifters were fitted for drivers wanting to summon their own gear changes, and the response time and gearshift speed this transmission is capable of makes those paddles pleasing to use -- especially when watching the tachometer needle flit around at impossible speeds while the engine sound seems impossibly quiet for the acceleration generated.
On my watch, the Passat TDI put away about 5.8L/100km during highway cruising at the sort of speeds people actually cruise the highway at, towards a test average of just 6.3L/100km.
Inside and Out of the 2014 Volkswagen Passat TDI
My particular tester wore some chrome, but it was used sparingly. The body lines are clean, tidy and all serve a purpose -- rather than just being applied for a complicated look. Although the beige paint job was about as stimulating as a case of rhinoceros tranquilizer, the Sport Package added some athletic looking wheels and carbon interior accents to replace the LeSabre-esque wood trim for a mature sportiness all around.
Usually, luxury sedans are lined with screens, interfaces and control knobs, dials, and switches, and layer upon layer of varying colours, textures and materials working towards a rich and very busy look. In the Passat, there's a delightfully simple approach taken instead. It's clean, meticulous, and logical. There's nothing complicated looking or even particularly exciting to lay your eyes on in here. Simply, it's just a tidy atmosphere that supports a relaxing, laid-back driving experience.
Other notes? The turning circle is tighter than expected, the trunk is a massive carpet-cavern, and the on-board space should prove generous -- even if you and your passengers are north of 300 pounds and typically avoid salad. Further, the tester's Fender audio system is potent and punchy, the navigation interface is dated but effective, and most will find the right materials fall at the fingertips in most of the right places.
Gripes included the lack of premium xenon headlamps found in many luxury cars at this price point, as well as a sometimes-lengthy delay between selecting reverse and the backup camera turning on -- meaning you'll probably run over your daughter's Hanna Montana scooter before it's visible on the screen.
Comparing the 2014 Volkswagen Passat TDI
With diesel power, luxury features and pricing shy of $40,000, the Passat effectively has no direct competitors in this marketplace. Other big, affordable and luxurious family sedans do exist though -- so determine your preferred balance of fuel economy, luxury and power, and then be sure to consider the Passat TDI alongside machines like the
Toyota Avalon
,
Honda Accord Hybrid
, Mazda6, and Chrysler 300.
Road Tests and Reviews

Consumers
2014 Volkswagen passat 2.0 TDI Highline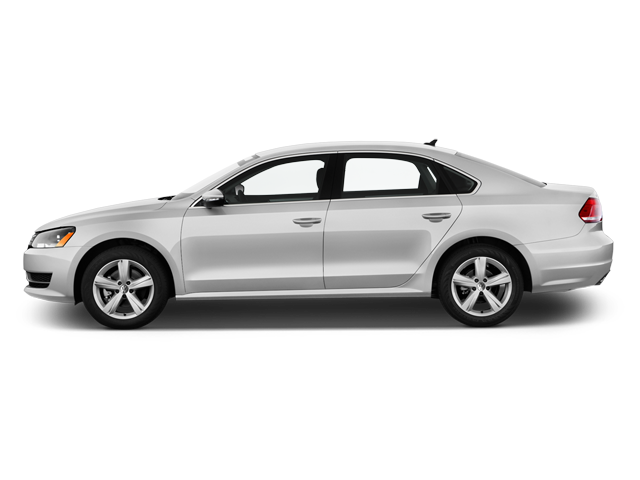 2014 Volkswagen passat 2.0 TDI Highline