Napa Valley, CA -- As humans, we have an innate need to let others know our status in life. We may not like to admit it, but our materialistic nature has lead to us announcing said status via the objects we own, be it clothing, a house or a vehicle. When a vehicle is "used" as this status symbol, there are a few manufacturers that jump to mind immediately: Land Rover, Mercedes-Benz, BMW, Porsche. GMC is not always at the top of the list.

It should be.

Enter the 2015 GMC Yukon XL Denali, as luxurious as its European counterparts and just as large and in charge, Yukon Denalis are purchased because the buyer is rewarding his/her success in life by getting the best of the best of a given brand. The reward is most definitely visible when you get behind the wheel and realize what this luxurious American behemoth has to offer.

What is a GMC Yukon XL Denali?
Besides being absolutely huge, the GMC Yukon was first introduced in 1992, since then its popularity has steadily grown, and just seven years after the regular Yukon was introduced, the Denali was released.

Between 1997 and 2013, Denali sales account for 60% of Yukon sales.

With seating for nine available along with gobs of cargo space, the GMC Yukon XL Denali is the largest and most decked-out Yukon currently available.

2015 GMC Yukon XL Denali Price and Specs
Everything about the GMC Yukon Denali is large, even if you choose the shorter wheelbase version (i.e., not the XL). From the engine (a 6.2L V8) to the overall length of the XL (224.3", which is a over 20" more than the regular Yukon), it's all very big. And that's perfectly fine, because that's what the Yukon is all about, being large and in charge.

With 420 horsepower and 460 lb-ft of torque available with the 6.2L V8, the 6-speed transmission makes very good use of the power at hand to help move the 6,000-lb behemoth. The smaller 5.3L V8, for the non-Denalis, offers up a good amount as well with 355 hp and 383 lb-ft of torque. Both engines and the Denali trim are available in the short and long wheelbase models. 2WD and 4WD models are also available.

Pricing on the 2015 GMC Yukon Denali starts just above $73k, a large price tag for an equally large vehicle. The XL tacks on an extra $3k.

Driving the 2015 GMC Yukon XL Denali
I was immediately impressed with the fact that although this vehicle really is ginormous, it doesn't drive at all "big." With a turning radius better than some cars I've driven as of late, the 2015 GMC Yukon XL Denali was a joy to drive though the winding, elevation-changing roads of Napa Valley, CA.

Throttle response is pleasantly delayed upon takeoff from stoplights, but not in an obnoxious way, as it keeps acceleration even and constant ensuring all aboard ride in supreme comfort. Braking is also handled very well via four-wheel disc brakes with Duralife rotors.

When pushed, the 2015 GMC Yukon XL Denali's 6.2L V8 growls to life in an audible way that's quite nice, and so is the pick-up. Gears are found in ample time, and never did I find the Denali struggling to meet my demands, even on winding mountain roads we climbed at speed.

Steering is a bit vague, but that's not necessarily a horrible thing. While not uber precise, it is more connected than some SUVs I've driven recently. This is not a high-performance vehicle, and it's not trying to be one.

One of the best parts about driving the 2015 GMC Yukon XL Denali is most definitely the Magnetic Ride Control suspension (on Denali models only). This suspension is stellar and makes light of any sort of imperfection on the road surface. So smooth is the ride sometimes that I wondered if we weren't driving on a cloud.

Inside and Out of the 2015 GMC Yukon XL Denali
Well, if you hadn't noticed, this thing is large. Very large. And I love it. I'm a huge fan of the Mercedes-Benz GL-Class design and because they are so fantastically boxy and purposeful. Same goes for the Yukon XL Denali.

The front fascia of the 2015 GMC Yukon XL Denali is fabulously masculine and has almost as strong a presence as the Sierra pickup, and with the Denali grille that level of sophistication goes up a few notches.

Inside, the Yukon XL Denali there's 3,429 liters (121.1 cu-ft) of cargo room with all the seats folded (which is done via the touch of a button for both the second and third row). GMC will also offer OnStar 4G LTE connectivity with an available Wi-Fi hotspot.

An entertainment package sees two screens integrated into the roof for the second and third rows, and while the third row screen is OK when down, the second-row screen completely covers the driver's view out the back in the rearview mirror.

All manner of HVAC and HMI buttons are well within reach of the driver and front passenger, and the 8" touchscreen is easy to manipulate, and the natural voice recognition system offers another level of safe functionality.

Comparing the 2015 GMC Yukon XL Denali
As far as large, seven-plus-passenger vehicles go, there are few that offer the space and luxuriousness of the GMC Yukon Denali. Of course, its sister vehicles the Chevrolet Suburban and Tahoe offer the same space and a certain level of luxury. Lincoln's Navigator and the Mercedes-Benz GL-Class offer the interior space similar seating capacity.



Road Tests and Reviews

Consumers
2015 GMC Yukon XL 4WD Denali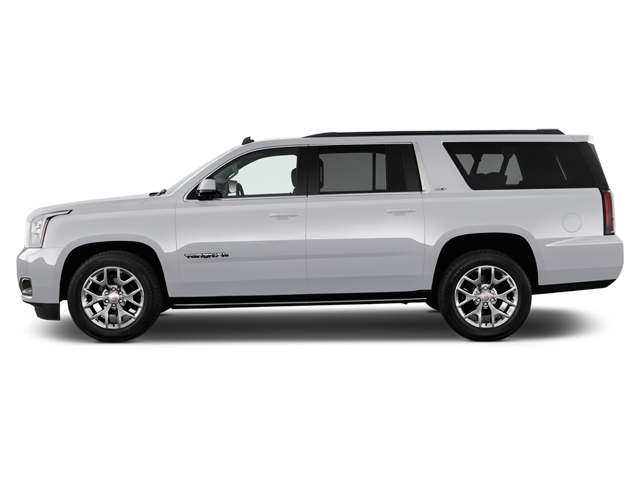 2015 GMC Yukon XL 4WD Denali