I somehow missed out on this year's Chevy Tahoe launch in Lake Tahoe, California, and I'm a tad young to have driven the Alfa Romeo named for that delightful city in Quebec (Montreal), but I can now lay claim to have driven a brand spanking new 2015 GMC Yukon in the Yukon!
Yes, together with several other Canadian automotive journalists, I spent this past week behind the wheel of a 2015 GMC Yukon Denali exploring the breathtaking (and I truly do mean that!) scenery in what has to be one of the most closely guarded secrets of this country: the Yukon Territory.
Sure, we've all heard of the Yukon Gold Rush and there's probably more than a handful of us who has chowed down at the breakfast table on a bowlful of Klondike Pete's Crunchy Nuggets Cereal. Yet beyond this, how much do we truthfully know about this famous region of Canada?
Well it's quite large! Although covering 482,443 km² (roughly the size of Spain), the Yukon is the smallest of Canada's three federal territories. It's also brimming with magnificent scenery. In fact, although I've visited most parts of Canada, until I was standing gazing at mountain tops poking majestically above the Yukon clouds, I never appreciated just how truly glorious this country of ours is.
Of course, it's a fair old trek up into the Yukon. Fortunately for me, we flew into Whitehorse by plane (via Vancouver) before hopping into the luxurious comfort of a 2015 Yukon Denali. We then hit the Klondike Hwy en route to the famous gold rush town of Dawson City.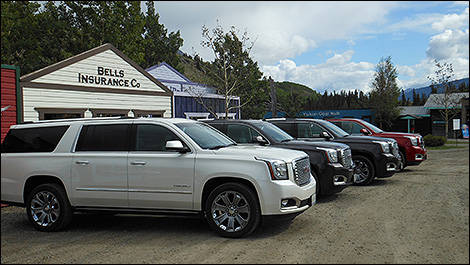 Photo: Kevin Corrigan
It's almost 550km up to Dawson and the GMC Denali soaked up the first few clicks like a limousine, until the pavement ended and we found ourselves on dirt roads that is. It was around this time that the full-size luxury SUV really started to show what it's made of. Freshly laid gravel can be as scary as black ice if one doesn't show adequate respect, and a competent 6,000lb (2,725kg curb weight) Denali 4x4 certainly helps install confidence. So too did its 420hp (460 lb-ft of torque) 6.2L V8 as when someone famously uttered the phrase: "There's gold in them there hills;" they weren't joking about that last word!
The Klondike Hwy carves itself through mountain after mountain and, from the comfort of my leather heated & cooled armchair, I marvelled at what it must have been like for those early Gold Rush pioneers. Horses, mules, and wagons were all they had, and here was I living it like a gold-rush winner in the lap of luxury. And that is the right word as the new GMC Yukon Denali is as luxurious as an Escalade, yet manages this in a slightly more understated manner. It is the perfect vehicle for someone who has just discovered his pot of gold in the Yukon and wants to return to the big city without drawing too much attention to the fact.
Of course, I may have been approaching the task from the opposite direction, yet I still possessed dreams of making a lucky strike so I paid really close attention to the ground whenever I exited the vehicle!
We rolled into Dawson City rather gold-less, yet suitably relaxed. GM's second generation magnetic suspension certainly soaked up the humps & bumps of those dirt roads with ease, even if it didn't manage to magnetize any gold dust we passed along the way.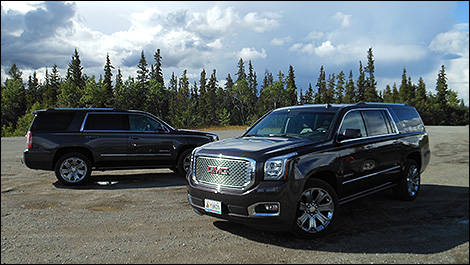 Photo: Kevin Corrigan
The first stop in town for any trail-thirsty gold prospector has to be the local watering hole, so we moseyed on down to Bombay Peggy's. This fine establishment is reported to have once been a house of ill repute, which is slightly more polite than deeming it an "old brothel." However, our hosts were truly welcoming and their rather suggestively worded array of cocktails (Chastity Belt, Bloomer Remover, Spank my Naughty *ss, Easy Lai… to name a few) caused more than a chuckle or two amongst my companions (journalists, you can't take them anywhere!).
Strolling through the town of Dawson City evoked all sorts of feelings. The wooden decked sidewalks (straight out of a John Wayne film), appear at first like a movie prop/tourism gimmick, but actually serve a genuine purpose as the dirt covered roads in Dawson churn to mud when it rains. And boy did it rain! So hard in fact that we had no option but to take shelter in Diamond Tooth Gertie's casino. This is when I learned another of life's lessons: Take your guns to town by all means son, but don't take any cash in your wallet or Gertie will rather quickly relieve you of it! In fairness though, she did put on a spectacular stage show full of sing-a-long songs and high-stepping can-can girls. The atmosphere was amazing and provided a real glimpse of what it must have been like to strike it rich and celebrate Yukon style!
The next morning, we headed out to a real-life gold mining operation. This required us to navigate several glorious miles of churned mud, and I was sure glad to be driving a capable 4x4. En route, we passed several historic claims and one of the old mining dredgers from days gone by. This now stands as a tourist feature but is a constant reminder of how gold prospecting went from being a one man/one pan operation to big business/big money.
Out in the gold field we were met by the owner who explained how the business operates. Massive digging machines do most of the heavy lifting today, yet the mechanical sluices still bear a certain resemblance to those used near-on 100 years ago. My colleagues requested all sorts of technical information from the owner, but only yours truly asked the real important question: "Do you operate a finder's keeper's policy here?" I heard a belly laugh and the word "yes," and immediately spent the next 30 minutes scouring the surrounding landscape.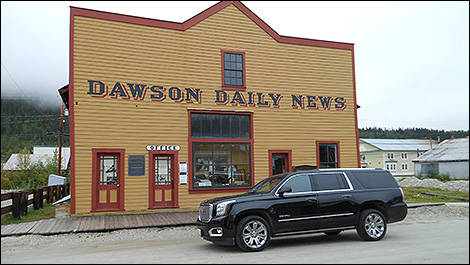 Photo: Kevin Corrigan
Unfortunately, like oh-so-many before me, I came away empty handed. Yes, as I clambered aboard the Air North flight home clutching my little bag of fool's gold (from the tourist store), I couldn't help thinking of the lucky few who had journeyed to the Yukon and left laden with wealth and happiness. For me, thanks to the blackjack table at Gertie's, I left void of some wealth, yet rich in happiness. The Yukon is a truly amazing place to visit. Overflowing with spectacular scenery, home to wonderful people and history galore, so everyone leaves with a wealth of memories.
I also learned a great deal about the other Yukon during this trip, the one from GMC. This is a true truck-based tuxedo-wearing expedition vehicle of the first order. We put ours well and truly through its paces on this trip. Dirt roads at highway speeds, mud-bogging on gold mine trails, and through all this it performed like a well-trained British butler. It attended to our every need and never once complained. In fact, my mind is set; once I discover a proper gold map of the Yukon, I'm heading back for another attempt, and in another Yukon Denali. Yep, I reckon with its healthy payload capacity and a tow rating of 8,300lbs (max), a new 2015 Yukon Denali should be plenty capable of carrying home my gold nuggets in style!
2015 GMC Yukon