Malaga, Spain --
Emerging trends are sometimes easy to spot, and the entry-level compact premium/luxury crossover utility craze is blazing quite a trail.
Now, if this new category still requires some time before it becomes better outlined, there is no doubt that the GLA-Class is highly defined in what it is and what it is expected to do. In reality, the GLA can do even more than what you might expect. Remember, this is a "G" and thus has robustness built in.
Mercedes' new 2015 GLA-Class is truly a means to many ends. Its overall size makes it highly manoeuvrable, especially in a tight urban setting, its interior dimensions and trunk lend themselves to daily comfortable transportation, and its powertrain not only entertains but also adds surefootedness even in difficult conditions. Could this be an ideal small car for the luxury-car-craved masses?
What is a Mercedes-Benz GLA-Class?
The latest arrival from Mercedes-Benz' very large line-up of products inserts itself in a burgeoning category. This relatively new segment is growing and will likely find many likers in the near future.
The GLA-Class is meant to bridge a gap between the B- and C-Class vehicles without ever feeling like a compromise. In fact, it may be that those who preferred the previous C-Class wagon might find what they are looking for in the GLA, if the GLK-Class seems too SUV-like.
2015 Mercedes-Benz GLA-Class Price and Specs
The all-new Mercedes GLA 250 4MATIC rides on a shared platform that also underpins the current B- and CLA-Class cars.
The 250 runs on a turbocharged, 2.0L 4-cylinder that produces 208 horsepower and 258 lb-ft of torque. A 7G-DCT 7-speed dual-clutch automatic transmission transmits the power to all 4 wheels via Mercedes' 4MATIC AWD system.
The 45 AMG utilizes the same hardware, although beefed up, as its turbo 4-pot mill but produces 355 horsepower and 332 torques.
Production of these little beasts begins in July of 2014. As far as pricing is concerned, it will be announced closer to the release date, which will be sometime in late summer or early fall.
Driving the 2015 Mercedes-Benz GLA-Class
I'm reiterating the fact that I've become a huge fan of turbocharged 4-cylinder engines. For all compact and most midsize applications, the right amount of boost and refinement can be achieved with a 2.0L mill, and Mercedes' line of 250 vehicles is proof of this.
The 2015 Mercedes GLA 250 4MATIC is a spirited and efficient performer. Not only does the power come on early and strong, but the 7G-DCT transmission is perfectly adapted to it. In this application, the 'box jumps from cog to cog with decisive precision -- decidedly one of my favourite aspects of these transmissions. I toyed between manual, sport and eco (normal) modes and each came in handy depending on the driving environment.
With the right amount of throttle pressure, the engine comes to life and produces a lovely spooling whistle that adds street cred to the compact vehicle. On the smooth southern coastal roads of Spain we navigated, the GLA 250 excelled at keeping all 4 wheels in constant controlled contact with the pavement even under strong acceleration. The suspension, coupled with the permanent 4MATIC AWD system doled out infallible grip and a dynamic driving experience.
The 2015 Mercedes-Benz GLA 250's ride quality is a perfect mix between sporty intentions and an appreciable level of comfort. Despite the GLA's rather tall-ish stature, body roll is kept to a strict minimum. That extra level of ground clearance comes in handy as the GLA can and does enjoy leaving the beaten path.
In fact, an Enhanced On/Off-Road Package is standard and includes Downhill Speed Regulation (DSR) and revised shift points. It also includes an on- and off-road screen that displays the selected driving mode, the activation of DSR, steering angle, and a few other specs.
Steering feel and assistance are my only gripes with the GLA's drive. I thought the electric power assistance to be too great at times, especially in the twistier bits of road we traversed and this, in turn, affected road-to-driver communication. I'd hoped that this was to be addressed in the 45 AMG, but sadly is not. (More on that shortly.)
Inside and Out of the 2015 Mercedes-Benz GLA-Class
It's difficult not to want to describe the 2015 GLA as nothing more than a jacked-up hatchback. Basically, this is what it is and I'm all for it. I strictly adore the 5-door setup as it blends properly with the stubby, forceful front-end, high beltline, and squat, wide rear end.
The available wheels and colours do wonders for the car aiding in a muscular look, and most importantly making it every bit a Mercedes product.
The cabin is equally all Mercedes. The seats are spot on and I love the low-slung driving position. Once more, it matches the 2015 GLA's sporty demeanour. The dashboard layout is also Mercedes fare, but I would note that the control wheel for the on-screen menu is far too rearward for easy manipulation.
Part of this car's high capture potential comes from its configuration as a hatchback. It's not boxy like the GLK, but improves upon the CLA- and C-Class' trunk access all wrapped in touch of class, both in and out.
Comparing the 2015 Mercedes-Benz GLA-Class
The new 2015 Mercedes GLA-Class parks itself in the middle of one of the fastest growing and latest emerging segments. The compact premium sport utility/CUV category has grown into a sub-branch that will include the likes of the upcoming Audi Q3 and Infiniti Q30 (not confusing at all…) and join the ranks of the BMW X1, 3 Series GT,
Buick Encore
, and a few others yet to come.
As I've only experienced half of these vehicles, it is difficult to put my seal of approval on the Merc; however, it's every bit a Mercedes product and that says quite a lot.
Road Tests and Reviews

Consumers
2015 Mercedes GLA-Class GLA250 4MATIC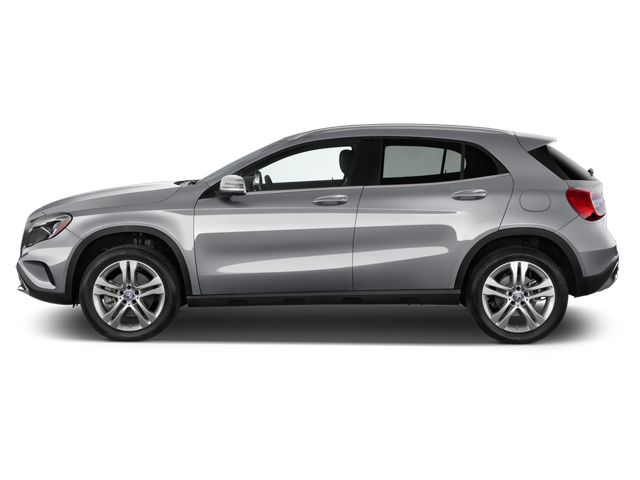 2015 Mercedes GLA-Class GLA250 4MATIC