New Jeep Cars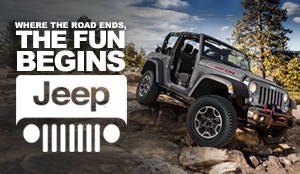 Jeep Canada
With their humble beginnings in the 1940s as untested, unproven machines of war, Jeeps continue to embody the spirit of freedom and pride they brought to the WW2 battlefield 70 years ago. Today, Jeep offers a range of utility vehicles for civilian use both on- and off-road.
In 1940, Willys-Overland and Ford were contracted to improve the American Bantam Car Company's prototype reconnaissance vehicle, in order to fulfill the U.S. military's urgent need for a lightweight, quarter-ton 4x4 reconnaissance vehicle for active duty.
Within a year, the blueprints for one of the most versatile and recognizable vehicles in the world was born. Produced from 1941 to 1945, the Willys MB (a.k.a. Ford GPW) was battle-hardened by U.S. Army infantry regiments deployed around the world.
In 1945, after WW2 ended, Willys started producing the CJ (or Civilian Jeep) lineage with the CJ-2A – one of the first civilian vehicles anywhere to be equipped with four-wheel drive from the factory – followed by the CJ-3B in 1953.
The Jeep trademark was granted to Willys in 1950, seven years after the original trademark brand-name application had been filed. Kaiser Motors bought Willys in '53 and renamed it the Willys Motor Company, which launched the round-fendered CJ-5 model in 1954 that amazingly lasted until 1983.
The full-size Jeep Wagoneer came out in 1963 and lasted until 1991 with only minor mechanical updates to it.
American Motors Corporation (AMC) bought Jeep in 1970. The full-size body-on-frame Jeep Cherokee SUV (SJ) came first, from 1974 to 1983. A long-wheelbase version of the CJ arrived two years later – the CJ-7 was first to get the available automatic all-wheel drive system called Quadra-Trac. It was produced for a decade.
A more compact unibody version of the Cherokee (XJ) was produced from 1984 to 2001; Comanche, the pickup truck version, was built from '86 until '92.
The Grand Cherokee was also developed by AMC, however, didn't launch until 1993, some six years after Chrysler purchased AMC from Renault in 1987.
The redesigned civilian jeep came out later that year with a new name. Keeping the front and rear live axles, the new Wrangler had a wider track, slightly less ground clearance and more comfort features over the CJ-5 predecessor. The new generation ('87 to '95) became known as the Jeep YJ with TJ following from '97 to '06.
Redesigned Grand Cherokees were released in 1999, 2005 (with noteworthy options such as Quadra-Trac II and the availability of 5.7- and 6.1-litre Hemi V8s) and then again in 2011 where new four-wheel independent suspension improves its on-road handling.
A 10-inch longer wheelbase Wrangler Unlimited (LJ) model was introduced in 2004 with a hardcore off-roading Rubicon Unlimited model following in 2005. After a complete redesign and new platform (JK) in 2007, the current Wrangler got its first facelift in 2010.
The Jeep Liberty compact SUV succeeded the Cherokee in 2001 here in North America, though its name remains in other markets. The 7-passenger Commander was offered from 2006 to 2010, while in 2007, the second-generation Liberty launched alongside a pair of new Jeep compact crossovers – the Patriot and Compass, respectively – which differ only in their styling and marketing.
Most of Jeep's lineup has been redesigned for 2011, which includes the compact Compass, Patriot and Liberty, the mid-size Grand Cherokee and, of course, the go-anywhere, do-anything Jeep Wranglers, in 2-door and Unlimited 4-door models.
Discontinued Jeep models