New Kia Cars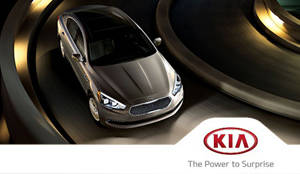 Kia Canada
Korea's oldest automaker, Kia, has come a long way from its steel-producing, bicycle-manufacturing roots in the 1940s. After becoming part of the Hyundai-Kia Automotive Group (now the fourth largest auto manufacturer in the world) in 1998, Kia began expanding more aggressively into new markets (Canada being one of them) and new vehicle segments.
Like Hyundai, compact models were amongst the first to go on sale here. The '98 Sephia sedan took the lead. A five-door hatch followed in 2000 with the name Spectra. A year later, both got facelifts and the Sephia was name dropped in favor of Spectra, with GSX denoting the hatchback model. The Spectra got a final facelift in 2005 but was replaced by the 2010 Forte.
The Sportage compact SUV arrived here in 2001 with a two-litre four-cylinder engine and RWD or AWD options. Plagued by poor quality and recalls, however, it was shelved in 2002 while a rightful successor was developed. Its larger replacement arrived as a 2005 model with FWD or AWD and available V6. The Rio subcompact sedan also arrived in 2001, spawning an RX-V wagon for a few years. A redesign for 2006 brought back the sedan, while the wagon was replaced by a five-door hatchback.
Kia's mid-size family sedan through the last decade was the Magentis. Competing with Accord and Camry, it was launched in 2002 with 4-cylinder and V6 engines. For 2011, it gets a complete makeover and a name change to Optima, as it has always been called in the U.S., with turbo and hybrid versions to follow.
The V6-powered Kia Sedona minivan also launched in 2002 and was redesigned in 2007. The 2011 model gets more power and fuel efficiency from a smaller-displacement V6.
The Sorento mid-size SUV came out in 2003 and could comfortably even venture off-road, thanks to its automatic four-wheel drive system and ladder-frame design. The redesigned 2009 and onward models feature a unibody design, smaller, more powerful engines as well as front- or all-wheel drive powertrains.
Lasting from 2003 to 2010, the Amanti was Kia's full-size executive car that featured baroque styling cues. It will eventually be replaced by upcoming Cadenza sedan, similar in style to the new Optima but bigger.
The year 2006 is an important one as it put Kia on a totally new design path after hiring a new chief of design, Peter Schreyer, creator of the original Audi TT. His "Tiger Face" grille from the 2007 Kee concept vehicle has finally helped give the brand its own distinctive face moving forward.
Canada got the five- or optional seven-passenger Rondo for the 2007 model year. With 4-cylinder and V6 engine choices, it offers versatility and efficiency due in large part to consumer satisfaction. In 2008, Kia welcomed the 2009 Borrego full-size SUV featuring its first optional V8 engine and 7500-lb class-leading towing.
The Forte compact has been designed to attract a younger buyer, yet comes in four-door (from 2009), two-door Koup (from 2010) and five-door Forte5 (from 2011) variants to appeal to a wider audience. The 2010 Kia Soul was added to the line-up, its darling looks complemented by a choice of four-cylinder engine powering the front wheels.
Kia currently offers the subcompact Rio and Rio5, the compact Forte family, the mid-size Optima, the Soul crossover, the Sportage, Sorento and Borrego SUVs as well as the Rondo and Sedona people-movers.
Discontinued Kia models