1997 - 2001 Toyota Camry - A Good Buy at Almost Any Price
Look up the word "reliable" in Merriam-Webster's Collegiate Dictionary and the words "dependable" and "trustworthy" appear.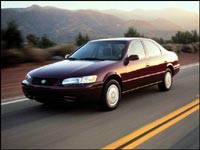 That's what millions of owners think about every time they hear the Camry name in conversation.
That said it's been coming up in conversations for almost 20 years. The first generation Toyota Camry, launched in 1983 to replace the aging rear-wheel drive Corona, earned an unprecedented 99 percent customer satisfaction rating. As impressive, it has also won the CAA Used Car Performance Award seven times. One would expect it to show up on the CAA Top Ten Vehicles Ownership Satisfaction Survey as well. What's not expected is that upon this reviews writing it owned 3 of the top 10 spots, with the 1997 - 2001 model placed above two previous Camry generations, in fourth spot on the list.
The 1997 Camry broke from tradition in offering a rakish, sporty design - at least it was sporty for Toyota's conservative mid-size customer. Trim levels included the CE, CE V6, LE and XLE V6 in 4-door sedan body configurations only, as the wagon and coupe were discontinued. The coupe, however, showed up in 1999 as the Solara with a convertible to follow.
A new 133-horsepower 2.2-litre 4-cylinder in the base CE and LE models improved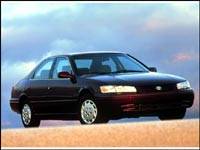 performance while reducing fuel consumption. Just how miserly was it? Mated to the standard five-speed manual, 10.0 / 6.8 L/100 km was achievable in city / highway driving respectively. Those numbers went up slightly with the four-speed automatic. A four-speed automatic transmission was the only choice when the 194-horsepower 3.0-litre V6 was ordered, only this unit incorporated "intelligent" shifting. Depending on a driver's style, either power or normal shift modes allowed the engine to achieve its full redline potential or shifted early to save fuel. A conservative driver was capable of 12.3 L/100 km in the city or 8.1 L/100 km on the highway. A more aggressive driver would probably appreciate the car's optional traction control.