A sport utility vehicle can be a complicated machine with plenty of problems as it ages. Heavy weight, potential for off-road use and towing can all lead to early troubles if proper maintenance is neglected-- and repairs are typically expensive compared to a wagon or minivan, too.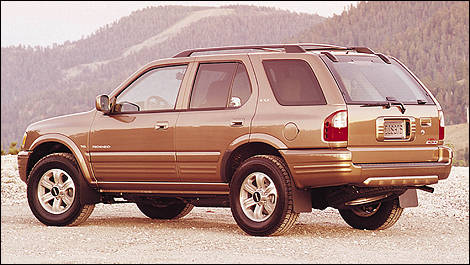 2002 Isuzu Rodeo
As such, shopping for an older used SUV should always be done with patience and care. Rushing to a decision or failing to have the machine in question thoroughly inspected could be a recipe for disaster.
Why bother with an SUV? Many buyers are attracted to this breed of family hauler for its capability, toughness, and go-anywhere operation. That was largely the case with the Isuzu Rodeo.
Checks in various online forums show owners revealing that it was the model's rugged construction, tough four-wheel-drive system and plentiful ground clearance that pulled them in. Many Rodeo enthusiasts say their machines are excellent off-road vehicles-- even in fairly severe conditions. Most also appreciated the generally-smooth ride, nice handling and smooth-shifting automatic gearbox. Easy entry and exit, as well as adequate space, round out the Rodeo's owner-stated positives.
Though Isuzu pulled out of the Canadian marketplace a few years back, the Rodeo enjoyed a good run. Competing for shoppers with machines like the
Trail Blazer
,
Grand Cherokee
and Durango, Rodeo offered 2 or 4-door configurations with four or six cylinder power, and 2 or 4 wheel drive.
Powerplant options consisted of a 3.2 litre V6 with 205 horsepower, or a 3.5 litre unit with 250, which was introduced later in the model's life. Earlier on, you'll also find a four-cylinder model available—though shoppers planning to do any serious towing should scratch this one from their list. The general consensus with owners is that the V6 powerplants provide decent acceleration, though performance is far from thrilling.
As with any SUV model,
fuel consumption
is a typical complaint. With the V6 engine and four wheel drive, mileage averaging about 13L / 100km can be expected.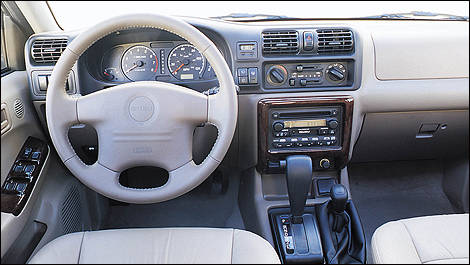 2002 Isuzu Rodeo