The Jaguar S-Type is a stately, sophisticated and high-class looking sedan that you'll probably find a smokin' deal on--given today's market conditions. Think of the
S-Type
as a cheaper alternative to the pricier
Jaguar XK
sedans. It boasts historically-rooted styling, very posh accommodations and a selection of available engines.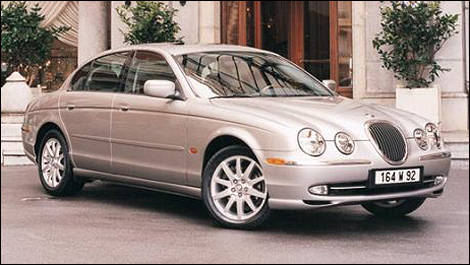 2000 Jaguar S-Type
The
Jaguar XF
replaced the S-Type in Jaguar's product portfolio last year. If you've ever wanted to get into a Jaguar, you'll probably find an abundance of S-Type's on the lot as trade-ins from loyal customers.
Here's how the S-Type breaks down. You'll find rear-wheel drive and a six or 8 cylinder engine, depending on the model you're investigating. In our marketplace, this silky cat was motivated by a 3.0 litre V6 and either a 4.0 or 4.2 litre V8, depending on the year you're shopping in. Power ranged between 235 and 300 horsepower, depending on the year. You'll find a manual gearbox on the base V6 engine, while an automatic was standard elsewhere.
Look at a 2003 or later S-Type if you're big on horsepower, as the engine lineup was tweaked slightly part-way through the car's cycle. There was also a supercharged engine added for the S-Type R model. It whipped up between 390 and 400 horsepower and gave the car a serious bite in the performance department.
Like features and gadgets? This cat's loaded with them. All of the basics, as expected, were standard. These included automatic dual-zone climate control, cruise, power everything and a sunroof. You'll even find a power tilt and telescopic steering wheel.
Heated leather seats, navigation, Bluetooth, satellite radio, parking assist, heated mirrors, and a self-dimming rearview mirror were available or standard too.
High-end goodies included a 16-way adjustable memory driver's seat, memory mirrors, wheel and pedals, and automatic xenon lights with self-leveling function.
The S-Type's interior delivers plenty of stitched leather, wood trim and a high-tech, high-luxury appearance for drivers and their passengers to relax in.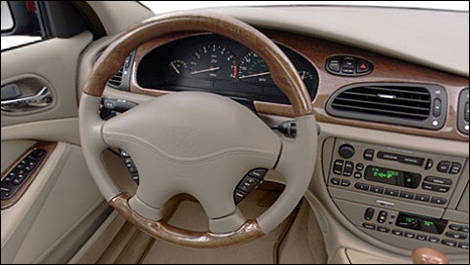 2001 Jaguar S-Type