Sports Car Fundamentalism Taken to New Lows
OK, Suzuki is now officially the ultimate tease automaker. The GSX-R/4 Concept Car is yet another sensational driver's car that will never see the light of day.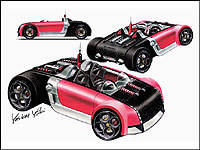 Yet another Suzuki teaser, the ultra-light scf-fi GSX-R/4 will never see the light of day. (Photo: Suzuki)
What makes it so special? Its ultra-light curb weight, racing car suspension system, high-tech motorcycle engine and windshield-less speedster profile make it one of the most powerful go-karts ever made.
Looking like something out of a sci-fi movie, Suzuki's new concept is sensationally styled. Its exoskeleton aluminum frame, detachable recycled-plastic panels and naked mechanicals make for a technological showcase, exactly what the Japanese brand was looking for. The GSX-R/4 pulls design cues and its name from the brand's series of GSX-R race replica motorcycles, the 4 designation making reference to four wheels instead of two.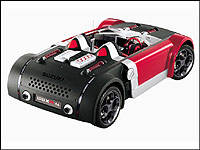 The mid-mounted engine in the GSX-R/4 is derived from the fastest mass-produced street bike in history, the GSX1300R Hayabusa. It's capable of reaching 11,000 RPM before hitting the redline. (Photo: Suzuki)
Those four 20-inch alloy wheels riding on 185/45R20 front and 195/45R20 rear performance tires, combined with its low center of gravity, light aluminum frame construction and tuner-friendly, height adjustable double wishbone suspension sporting exposed spring and damper units, should help it manage corners at even greater speeds than its two-wheeled sibling.
At 640 kg (1,411 lbs) its four disc brakes will hardly be taxed unless coming down from hyper velocities, which of course will be easily attained due to the roadster's motorcycle derived 1.3-L 4-cylinder engine. The bike the motor comes from, however, isn't just any scooter. The GSX1300R Hayabusa is the fastest mass-produced street bike in history, capable of 312 km/h (194 mph) top speed and about 9 seconds for the quarter mile (0.4 km). Its engine makes a total of 173-hp at 9,800 rpm. In case you think such revs are high, and granted they are for a car, the engine is capable of 11,000 rpm before spiking redline.