2003 Mazda MX Sportif Concept - The Future Looks Fun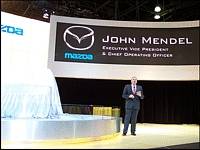 Mazda's Executive Vice President and Chief Operating Officer John Mendel during his witty introduction of the MX Sportif. The elemental concept is under wraps to the left. (Photo: Trevor Hofmann, Canadian Auto Press)
While nowhere near as overwhelming as Detroit, the New York Auto Show is considered one of the major stages for global production and concept vehicle introductions. That's why I try and make it each year, not to mention it's one of my favorite cities to visit.
It was in Manhattan's Jacob K. Javits Convention Center, located on 11th Avenue between 34th and 39th, toward the end of the last day of press events, that Mazda unveiled its new concept. I was beginning to tire, as were most of my colleagues, when we crowded around an attractive display, a podium at one end and a two-box vehicle under a simple white sheet at the other. I turned to one of the journalists and he remarked, "Oh not another crossover shoebox that flips, flops and folds into 27 different versions of a car no one wants." I couldn't agree more.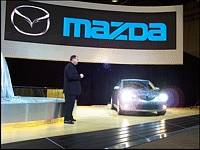 An audible sigh of relief could be heard when the real concept was driven onto the stage. (Photo: Trevor Hofmann, Canadian Auto Press)
Fortunately it was a ploy by Mazda to show what the company, known for sporty alternatives in mainstream categories, would not build. The sheet never came off the vehicle, or mockup of a vehicle underneath, but the MX Sportif, previously shown in Geneva to European media, drove out from behind a door at center stage.