Un-American Chevy Slated Only for Europe
Chevrolet showed its new M3X at this year's Paris Motor Show, an ideal location for this American brand's very un-American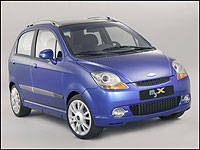 Funky, small and cute, Chevrolet's M3X concept is a rehashed version of Daewoo's popular Matiz microcar. (Photo: General Motors of Canada)
concept. While it's true that Chevrolet currently rebadges and sells Daewoos with its bowtie front and rear, both at home and now across the Atlantic, Chevrolet has never produced anything that falls into the mini-car segment.
Chevrolet's smallest car, the Kalos (sold in North America as the Aveo), will soon be joined by the Matiz mini-car in Europe, after the heads at General Motors agreed that it was 'lights out' for the underachieving Daewoo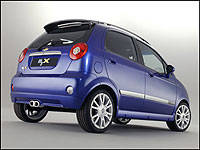 The car's rear end features restyled taillamps and a sporty rear spoiler. Short overhangs make fitting into tight parking spots easy. (Photo: General Motors of Canada)
nameplate. But before the Matiz is able to earn its golden bowtie, it must be updated.
Enter the M3X, serving as a preview of the next-generation production model. Its attractive one-box design originates from ItalDesign, which originated when it was commissioned by Fiat to come up with a replacement for the aging Cinquecento. After Fiat decided it would use its in-house styling facilities for its Seicento replacement, Daewoo eagerly snapped up the design. But that was some time ago, and now the Matiz is getting on in its years - the original design popped up in the late '90s. After serving Daewoo for nearly eight years, Chevrolet decided it was time to facelift the mini-car before receiving it as one of its own.