Exceptional Off-Road Ability
The long favored Toyota 4Runner, first introduced in 1985, was one of the original vehicles to be labeled an SUV. Now in its fourth generation, the 4Runner has evolved from its highly capable off-road roots to a 4x4 as comfortable in formal wear as it is in denim.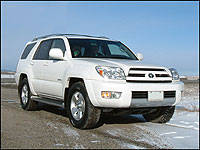 First introduced in 1985, the Toyota 4Runner has gone through four major changes, yet remains a highly capable 4x4. (Photo: Rob Rothwell, Canadian Auto Press)
The 2004 4Runner has changed little stylistically from the all-new vehicle introduced in 2003. The biggest news for '04 is the addition of an optional 3rd row of seats as well as side curtain airbags. Now up to seven well protected kin can tour the outback, or alternatively head to the theater aboard a 4Runner. Drawing on an old Land Rover and Land Cruiser feature, the two third-row seats can be folded flat and pivoted up against the side wall of the cargo area when not in use. When the passenger count exceeds five, simply drop the seats into place and two extra butts can be comfortably parked in the rear.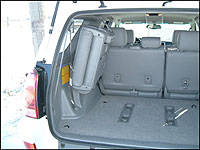 The major changes featured on the 2004 4Runner since the 2003 debut of the all-new model, are an optional 3rd row of seats and side curtain airbags. (Photo: Rob Rothwell, Canadian Auto Press)
When the two third row seats are stowed to the side, reasonably good storage is maintained in the cargo area. If maximum storage capacity is called for, the two third row seats can easily be removed from the vehicle following which the 60/40-split rear bench can be folded down, leaving a cavernous storage cavity featuring a flat floor. This type of passenger versus cargo versatility is the epitome of practicality, especially in a go anywhere vehicle such as the 4Runner.
A short time ago, Toyota lined up its latest offerings in the light truck and SUV segments then set a consort of auto journalists free in the great Canadian Rockies to test the limits of their products. As a member of the said platoon of journalists, I seized upon the opportunity to put a 2004 4Runner Limited through its paces, on road and off. There is perhaps no better backdrop worldwide in which to shake down a 4X4 than the jagged, snowcapped peaks of the Rocky Mountains of Western Canada.