Detroit - With the dearth of any truly "conceptual" vehicles, the focus on the 2005 Detroit show seemed to have been on cars that we will be able to purchase sooner rather than later.
Despite the buzz about "real" cars making a comeback in 2005, there was still plenty of new production SUVs announced. Cars like the Range Rover Sport, Saab 9-7X, and Mercedes M Class ensures that every infinitesimal niche in this already crowded segment will eventually be filled.
Ironically, Mercedes' Smart booth, which was brimming with folks trying out the not-for-sale-in-America Smart ForTwo and Roadster, was positioned directly across the Mitsubishi booth, which was drawing crickets. This despite Mercedes putting on hold plans to launch the micro-cars in the American market. Hmmm, maybe they should rethink that one...
From the show floor, here were my top six production picks for those who love to drive:
2006 Cadillac STS-V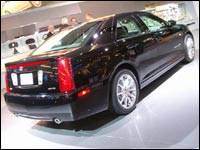 Picture by John Cooke
If you think this looks like a CTS-V that's completed grad school, Cadillac won't mind a bit. The day we were on hand Caddy penman Kip Wasenko was giving Overhaulin' host and hot rod guru Chip Foose a personal tour of the Big Daddy Caddy. Cool. Visually, the factory hot rod version of the cooking STS sedan is distinguished by a larger stainless steel wire mesh front grille inspired by V-16 Cadillacs from the 1930s, a front splitter, a taller rear lip spoiler to counteract lift, and the hood is sculpted to leave room for the engine's supercharger. Supercharger? Yup. How else do you achieve world-class lap times at the Nürburgring and a 160-plus-mph top speed? Seville? We don't need no steenking Seville!
Available:
Fall 2005
Base price:
$85,000 Cdn.(est.)
Future competitors:
BMW M5, Jaguar S-Type R, Mercedes-Benz E55 AMG
2006 Chevrolet Corvette Z06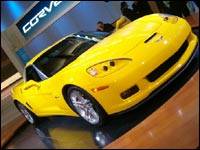 Picture by John Cooke
When was the last time you read "subtle" and "Corvette" in the same sentence? Initially available only as a fixed-roof C6 coupe (expect a ragtop next year), I had to look hard to see the physical differences from pedestrian 'Vettes. Borrowing knowledge gained from the Corvette's GTS racecar program brake ducts are found all over the car, a taller wicker bill sits out back and a discreet hood aperture directs air to the hand-built LS7 "small block" mill. The discreet bodywork cloaks some real engineering gems. The Z06 weighs less than the regular Corvette, yet gets dry-sump system, bigger wheels and rubber, and an oil-to-oil cooler for the differential. You may want to get back our deposit on that new Viper Coupe.
Available:
Fall 2005
Base price:
$85,000 Cdn. (est.)
Future competitors:
Dodge Viper Coupe, Porsche Carrera S