The ultimate weapon against vehicular monotony!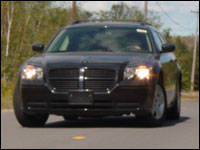 2005 Dodge Magnum SXT (Photo: Justin Pritchard, Auto123)
Camry... Camry... Accord... Camry... Altima... Accord... and so on went my friend while we were out driving the other night. We were playing a game where we try and tell what an oncoming car is by its headlamps to see who could figure it out first. I used to play this with my dad when I was about 5 years old and I always won, too. This game always makes me think about how the entries from the big three Japanese automakers into the sedan market are fantastic cars and sell very, very well. But something else goes along with these high sales volumes -- monotony. Everybody has a Honda Accord, all their friends have a Camry and their neighbors drive an Altima. These cars become almost like scenery because you see them so often that after a short while, you never even notice anymore. It's almost as though what we need is something... different and unique.
I find myself winding up in quite a few wagon or hatchback cars while doing reviews. I'm not especially fond of them at all -- personally I prefer a coupe. But look at it this way: You know how you wear a packsack to lug around that little bit of extra stuff you would look silly carrying? Well, a hatchback is like a coupe wearing a packsack. And a wagon is like a sedan wearing a packsack. (Or backpack or knapsack or whatever you happen to call it). The point is that it makes it easier to find room for things you wouldn't otherwise fit into a smaller machine, all the while leaving the hatchback feeling like a coupe and the wagon feeling like a sedan. Why is this extra room good? Wagons and hatchbacks are better on gas than a truck, and make more sense unless you have to haul something heavy around frequently. Parents finally giving you the boot from home? Make less trips with your stuff in a wagon than in a sedan. Popular? Plenty of room for all your friends and their things. Outdoorsy? Fold some seats down and sleep in the back on a camping trip. You get the idea.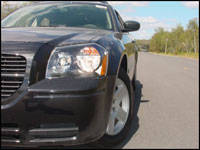 2005 Dodge Magnum SXT (Photo: Justin Pritchard, Auto123)
Dodge has made this new Magnum a bit special. On top of having the coolest name probably ever given to a car, as well as your choice of three engines and a roomy interior, they have made it rear wheel drive. If you're about twenty something and out after your first vehicle, you may not be familiar with the concept, since the front-wheel-drive invasion took place back in the 70's. In a rear wheel drive car, the engine is mounted transversely in order that its power be delivered to the rear wheels for the purpose of driving the car along on its way. What do the front tires do, you ask? They steer, and that's it. And THAT means, in theory, better handling. With the weight of the car's drivetrain spread more evenly across the length of the car, the center of gravity is closer to the middle, where the driver sits, and that makes you feel more in control, like the car is rotating around you in a corner, and not like your just attached to it and being flung along for the ride.
The Magnum didn't give me an easy time figuring out who its target market is. It's not a minivan, so it's not really going after established young families. It isn't Japanese or Korean, meaning its main appeal isn't going to be value and sensibility so much as something else like fun and
2005 Dodge Magnum SXT (Photo: Justin Pritchard, Auto123)
pleasure. I was thinking the target would be young, single males who have recently graduated and are somewhat settled into a career path. My suspicions about the target market were correct as I discovered when I started to read the sales brochure. It's full of late 20's and early 30's males, hanging out with their friends, playing sports and the like. Perfect. Maybe that's why the Magnum is available with a 340-horsepower Hemi engine. Remember, young guys with a little money like horsepower first, economy and versatility second. That's not to say it isn't a mature car too. Moms and dads will love its ability to seamlessly go from a grocery getter, to a cool-looking accessory or conversation piece in the employee parking lot at work to styling statement for that night on the town without sacrificing anything in between.