One full day has gone by so far and we still have so much to see. Most SEMA veterans that I have spoken too have clearly stated that it is impossible to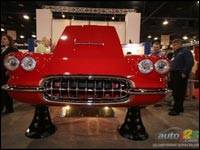 (Photo: Philippe Champoux, Auto123.com)
see the whole show in three days. I can say that Team auto123.com will do its absolute best to bring as many pictures of this show as humanly possible. They do say that pictures are worth a thousand words so take a look at our extensive gallery.
Yesterday, we cruised through the Central Hall where we saw the last racing and performance gear. Turbos, differentials, transmissions and even rolling-roads were there. We also took a walk in Hot Rod Alley. It is difficult to say how many Impalas, Deuces and Corvettes we saw but suffice it to say that unless you have been to SEMA, you will never see so many under one roof. For those that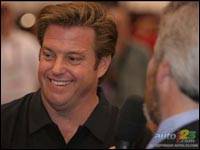 (Photo: Philippe Champoux, Auto123.com)
restore cars, the possibilities are endless. In the restoration marketplace section, we found companies that fabricate nuts and bolts, steering columns all the way to interior trim and A/C units for your vintage automobiles.
Towards the end of our day, we dropped into Overhaulin's makeshift garage to take a look at what they were up to. As far as we could tell, they were working on a 1970-71 Challenger. Chip, AJ and Chris were all present eager to sign autographs and joke around with the crowd.
More to come in the following days.