Caught between what it is and what it is not
Mazda has got us zoom-zooming everywhere these days. To be more precise, over the last 24 months, Mazda has introduced 7 new or redesigned vehicles. This number will rise to 9 over the next little while when the new subcompact 2 and redesigned B-Series (should there be one) shows up. The other 2 products are the 3 and the 6 which both went under the knife in the last year or so.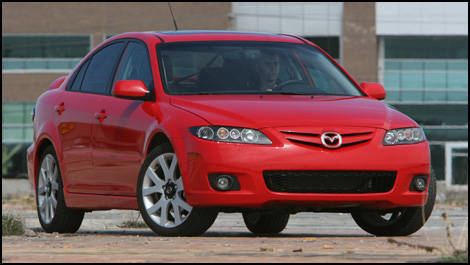 The tested 6 Sport has a GFX body kit, a rear spoiler, original-looking 18" alloy wheels and xenon headlamps.
My week's tester is the 6 Sport, which is the hatchback version of the midsize car. It can trace its roots back to the mid-eighties when the 626 was available with a large glass rear up-swinging door. The 626 has long been a great family vehicle, has benefitted from an enviable reputation and Mazda is capitalizing on that success with the 6 and the many trims in which it is available.
Sporty on the outside
The Mazda6 was purposefully designed as a sleek and dynamic automobile. To stand out from an otherwise mostly bland segment, the 6 has an aggressive snub-nose fascia almost like a bullet. I really enjoy how the hood lines start from the grille and work their way to the foot of the windshield. A more careful glance from the front reveals fender flares blended into the hood that are inspired by the
RX-8
. The mildly rising beltline does a great job of incorporating the trunk configurations. All of the body panels are aligned to near perfection.
All Sport models are now adorned with Mazda's GFX body kit. Likewise, every Sport has a hatch-mounted spoiler. My GT-V6 includes original-looking 18" alloy wheels and xenon headlamps.
Sporty on the inside
The 6's cabin is fairly compact in comparison to many of its principal competitors. Nonetheless, 5 passengers can be seated, however 4 will be more at ease. I especially appreciate the design of the dashboard; it is simple, functional and compact. The plastics as well as the assembly quality are very good. The only small comment I can make relates to the passenger-side airbag: the cover should be integrated into the remainder of the dash.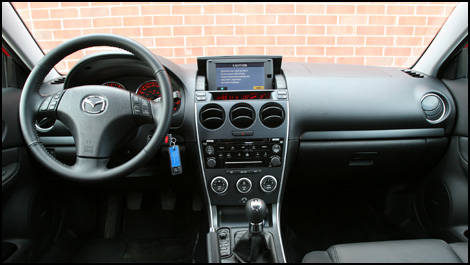 The 6's cabin is well-assembled, however it can be a little snug.