Not quite there yet
Warning:
the following review is intended for all those who used to believe -- myself included -- that pickup trucks necessarily
had
to be uncomfortable to deliver the goods.
We were wrong.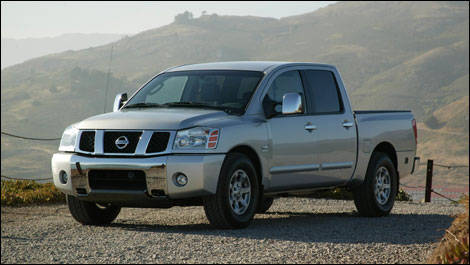 The Titan offers tough capabilities without a jarring ride.
Similar to the Toyota Tundra, Nissan's full-size Titan is a direct attack from the Japanese to the Americans -- a sort of automotive Pearl Harbor. It's a totally different interpretation of what a true workhorse should be, from a manufacturer that is certainly not known for its pickup truck expertise.
In reality, the Titan is pitting itself against the Big Three's mean machines, which have been outrageously dominating the full-size pickup truck market since, well, forever. Interestingly, though, this segment has been enjoying probably its most successful development era for the last few years.
Aside from the Titan which, admittedly, is a nice accomplishment despite some obvious flaws, Toyota is making huge waves with its Tundra, GM launched award-winning, next-generation models and Ford went to great lengths to redesign the iconic F-Series -- all this over the last four years while industry experts had anticipated a dramatic sales freefall. These new trucks give fans more and more reasons to rejoice.
Stately look
The same fans will like to sit behind the wheel of the Titan. Of course, those used to drive their little sedan will find its size gigantic and overwhelming. Yet, the Titan is just as big as the competition, give or take a few millimeters.
The main difference lies in interior room; the large, well-appointed cabin offers a certain level of comfort (full-size trucks have made significant progress in that regard). Ironically, the Titan's passenger compartment is not unlike a family sedan's, although twice as big.
Luxury creatures are aplenty, including leather seats, and buyers can even add a DVD-based entertainment system that children will no doubt appreciate during long trips on the back seat. The Titan is a true family pickup truck, which is fitting since more and more families are purchasing this type of vehicle as their primary and only means of getting out of the house.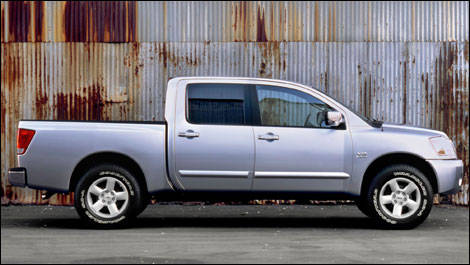 The Titan appears larger than it actually is.