One Smooth, Sticky Swede
A particularly smooth, well-controlled ride and wonderful cabin ergonomics were findings most prominent during the initial few clicks behind the wheel of this week's tester, which for 2007 features a new engine to replace the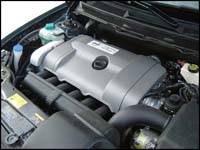 2007 Volvo XC90 3.2 (Photo: Rob Rothwell, Auto123.com)
anemic 5-cylinder plant that was its previous base offering. The new mill uses 6-cylinders arranged in a line to generate sufficient output to move the XC90 with respectable authority. In doing so, the naturally aspirated 3.2 litre engine relies upon the latest technologies, such as Variable Cam Timing, Variable Intake System and Cam Profile Shifting to achieve a consistent flow of power throughout the rev band. Power production peaks with 235 horsepower @ 6,200 rpm and 236 foot-pounds of torque at 3,200 rpm, the combination of which hustles the roomy SUV from 0-100 kph (0-62 mph) in 9.5 seconds. Volvo assigns a top speed of 190 kph to the rig. If those figures disappoint the Type-A personalities among us, Volvo introduced an optional, Yamaha-built 311 horsepower V8 into the XC90 in mid 2006. The 4.4 litre V8 pares the 0-100 kph (0-62 mph) down to a sprint of 7.3 seconds while raising the vehicle's top speed to 210 kph.
Whether standing still or verifying Volvo's performance specs, the XC90 is a sharp-looking mid-size SUV with 7-person hauling capacity. Although 2007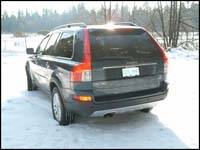 2007 Volvo XC90 3.2 (Photo: Rob Rothwell, Auto123.com)
brings about a series of design tweaks, including a cleaner nose, a keen eye is needed to detect the modifications; exterior lines remain bold, symmetrical and edgy. A broad shoulder, common to Volvo's complete lineup, runs the length of the XC90's expansive greenhouse while huge taillight arrangements extend upward to meet the vehicle's tall roofline. These design characteristics worked for me when the XC90 was introduced in 2003, and they continue to do so. Especially attractive is the XC90's interior architecture. There is nothing gimmicky about a Volvo interior, and the XC90 epitomizes that virtue.
In addition to being one of the most attractive cabins in the SUV market, the XC90's inner being is extremely well laid-out, logical and functional.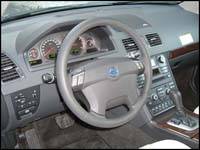 2007 Volvo XC90 3.2 (Photo: Rob Rothwell, Auto123.com)
Take for example the HVAC controls: push the bar with the portion of the body illustrated on it that you want the air to be directed at- and presto, it's done. Set the dual-zone temperature by turning the corresponding dial, and that's it. The windows fogged? Touch two little buttons and the front and rear defoggers activate. Push the same buttons when the glass is clear, and bingo- the system returns to its previous settings. I like this type of straightforward usage and wish it were more pervasive throughout the premium automotive segment.
A few more noteworthy aspects of functionality include an integrated booster cushion in the middle rear seat, to properly position children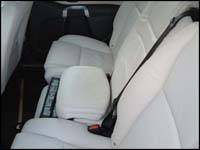 2007 Volvo XC90 3.2 (Photo: Rob Rothwell, Auto123.com)
weighing 15 - 36 kg, and the ability to independently slide all three rear seating positions forward or aft to adjust legroom. This mechanism also assists in providing reasonable third row ingress/egress. The optional, two third row perches are fairly comfortable and roomy except in height, wherein my head was pressed against the ceiling liner. Both the second and third rows of seating fold remarkably flat with little effort, providing a cargo-hold maxing-out at an impressive 2,410 litres (85.1 cu ft); that's a seriously large cavern for a mid-size SUV. Even with all seven seats occupied, enough room remains behind the third row to accommodate a few suitcases, skinny dogs or grocery bags. Drop one of the rear seats to insert an over-sized hockey bag or a small farm animal without difficulty.