Driving a Kia Rio5 is not exciting in itself. Like an
Aveo
, a
Swift+
or an
Accent
, it is above all a convenient and affordable mode of transportation, nothing more. This tiny little thing falls into the category of subcompact cars measuring less than four metres, where the notion of performance is decidedly absent.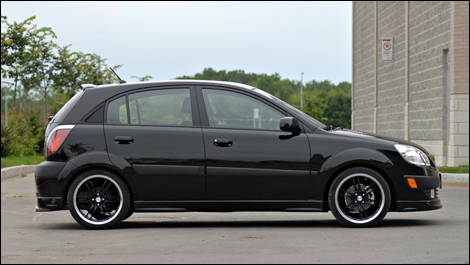 Around 300 units of the Rio5 SX Tuner will be produced, and only for the Canadian market.
That's why young buyers looking to stand out choose to tune their tiny little thing. And Kia Canada has understood this.
And so, ladies and gentlemen, without further ado (drum roll)... the Rio5 SX Tuner. Ta-dah!
An astonishing Rio5. Astonishing? Absolutely, because it actually manages to turn heads! To get one, you have to order a Rio5 EX Convenience at your local dealership and make sure you check the "SX Tuner" box on the sales contract. Upon delivery, the ugly duckling will have magically transformed into a sleek machine right out of the movie The Fast and the Furious. 'Sup, dude?
Exclusive to Canada
Launched last June, the Rio5 SX Tuner is exclusive to the Canadian market. The manufacturer plans on building only around 300 units. But it's better this way: who wants to see a carbon copy of an expensive tuned car on every street corner? Tuning and frugality don't rime, neither here nor in an independent tuning shop.
Its the dealer who you buy your car from that makes the transformation, adding enough special equipment to justify the extra $4,500 tagged onto the EX Convenience's sales price.
This Rio5 nevertheless cuts a fine figure. Like Henry Ford used to say, buyers can ask for any colour, as long as it's Midnight Black!
To turn you into the next DJ Rio Rapper, the car is delivered with a six-speaker set, including two tweeters normally reserved for the Rio5 EX Sport, a swankier model. Add to that a Clarion DXZ375 MP sound system and a 10-inch subwoofer with 240-watt amplifier and you've basically got everything you need to transform this midget into a disco on wheels.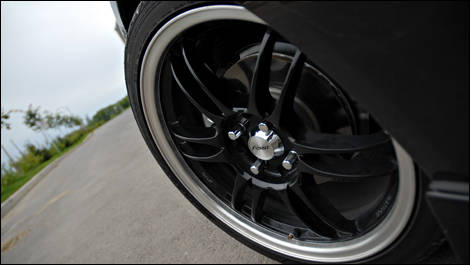 The original wheels have been replaced by Fast Inferno alloy ones equipped with Z-rated Falken tires.