Aveo is the Rodney Dangerfield of the Chevrolet lineup. It just "don't get no respect". Here is an entry level car that can be ordered as either a sedan or a five-door hatchback in LS or LT trim with either a five-speed manual gearbox or a four-speed automatic. Yet, you hardly see any ads for the car on TV or in the paper from GM. Local dealers have them, but seem to be able to get better deals on larger cars.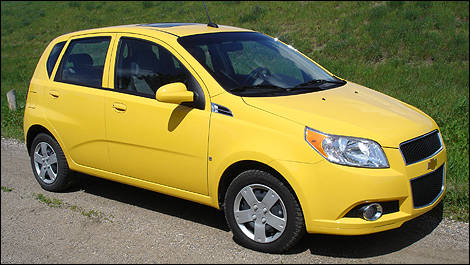 The car that turned up was a five-door hatchback that Chevy refers to as the Aveo5.
When Chevrolet said they were sending me an Aveo to try out, I thought that this would be my chance to find out why they were ignoring this car. As it turns out, the Aveo may be one of Chevrolet's better kept secrets and without rebates and other hype, the price of one may be a bit on the high side of cheap, but not by much.
The car that turned up was a five-door hatchback that Chevy refers to as the Aveo5. They went all out and put in the four-speed automatic and the LT trim which if you were to order, gives you access to some options and makes heated, power adjustable mirrors standard. There are a few other items such as an
OnStar
subscription for a year being included in the price that add good value to the extra cost of the package.
My friends at Chevrolet must have heard that I've misplaced a car or two in a few parking lots, so they sent me a bright yellow Aveo and I have to admit, it does stand out. The best part is that the design of this car can handle bright colors. Its eclectic combination of curves and straight lines comes out as an eye catching design among hatchbacks.
All the doors open wide enough to make getting in and out easy. Even the hatch opens up high enough that I can get under it without hitting my head. As long as you can reach the handle to pull the hatch down, you can close it. The hatch is very well balanced and literally closes with a light pull.
Cargo space, as you should expect with a small car and the back seat up may seem a bit small, but I was able to get a week's groceries in the back. I did have to fold the back seat down when my wife decided to update the lighting fixtures in our home and I wound up with a load of six ceiling lights and a new kitchen "array" stuffed in the back.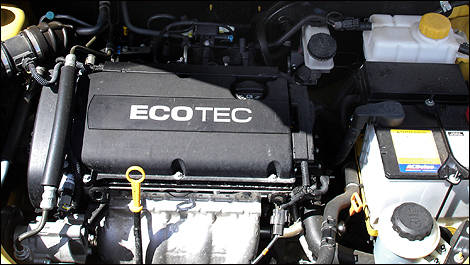 For a drag racer it is a tad slow, but then it has 108 horsepower coming out of a 1.6 litre engine.