It's hard to attract more and more buyers in your showroom with a model range of just five vehicles. But that doesn't seem to worry Suzuki. Slowly but surely is the strategy here, and they never seem to make mistakes; that is, if we excuse the X-90, a T-topped 2-seater cute-ute that unsurprisingly flopped.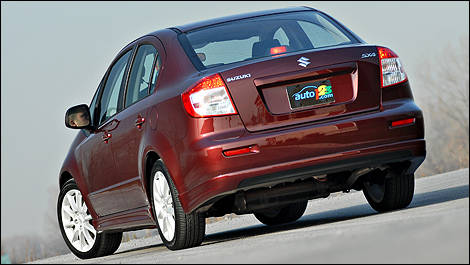 For about 20 grand, the SX4 Sport sedan is a nicely-equipped, roomy and comfortable car.
But soon, the Japanese company will cover two new market segments: the Equator mid-size pickup, based on the Nissan Frontier, is about to arrive, and a new mid-size sedan inspired by the
Kizashi 3 concept
car will turn up next year.
As for the SX4, it carries on its mission of battling the best of the compact segment. The sedan has a tougher job than the hatchback, though, having to confront big guns such as the
Honda Civic
, Mazda3 and Toyota Corolla.
So-so engine
Every SX4 is powered by a 16-valve, 2.0-litre engine and your choice between a 5-speed manual and a 4-speed automatic; our test car has the latter. With 143 horsepower, the car moves with an adequate rush, but the engine isn't an example of smoothness and refinement. Still, it gets the job done without too much complaint. However, the transmission almost feels like a CVT, always hunting for the right gear.
Zero to 100 km/h is yours is in a leisurely 10.5 seconds, and the quarter-mile is covered in 17.4 seconds at 128 km/h. That's not exactly slow, but not as zippy as some of its competition that has more satisfying powertrains. We're averaging 9.4 L/100 km, which isn't bad but not as frugal as what Civics and Corollas can achieve.
On the road, the SX4 behaves surprisingly well. It doesn't deliver the sporty driving dynamics of a Mazda3 or the supple ride of a Hyundai Elantra, but strikes good balance between the two. The low-profile tires make the car a little harsh over bumpy surfaces, though. The steering is light and precise, and the cabin is quiet while cruising at highway speeds.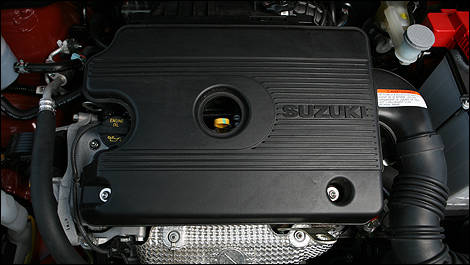 Every SX4 is powered by a 16-valve, 2.0-litre engine.