I had an epiphany the week I got to boot around in the darn-sexy A5. I wondered, well not really 'cause it just is, why the A5 is so strikingly beautiful. Here's how it happened: That same week, we at auto123.com were also test-driving a
2009 Dodge Challenger R/T
. Both of them were white and seductive. Believe it or not, side by side, the two cars are surprisingly similar in their overall shape.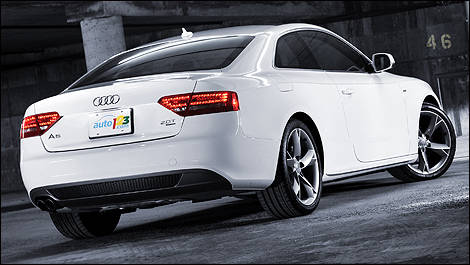 The A5 is dazzling.
And there it was! The "why" explaining why the A5 and its superior brethren, the S5, are so universally appealing: It's the German Challenger! Now, this is far from an insult! S = R/T anyone? Please do not assume that I am demeaning the Audi, comparing a vehicle as sophisticated as the A5 to something as crude (in a sense) as the big Dodge.
The haunches, the character lines, the flat trunklid, the large long hood and wheels... Are you starting to see what I see? Well, it's more than that, obviously. The A5 could be powered by a 65-hp 1.0L 3-cylinder engine and painted pink with yellow spots and it would still be very attractive. Listen to me.
I'd take one
Inherently, coupes are more stylish than sedans. The lower number of panel gaps, moving parts and sometimes ghastly door handles create fluid unobstructed lines that please the eye and the senses. I myself am no fan of coupes, having owned a few 2-door dirtboxes in the past, hating to throw stuff over the seatback only to have to reach in, dislocate your pancreas and knock your head on the sunroof trim (something else I dislike) to retrieve whatever it was that would not go in the trunk.
The A5 is dazzling. With the optional 19" wheels from the S-line package (a must!) and painted Ibis White, I'm seriously starting to run out of adjectives here... It's gorgeous! Have I mentioned that it looks good too? Perhaps one of my favourite details on this car is the headlights.
In the cool department, BMW was amongst the first to fashion non-headlight bulb daytime running lights. Their angel-eye rings started a trend that Civic drivers desperately desired to emulate; hence the angel-eye retrofit kits. Of late, Audi has taken the game one step further by lining up a series of LEDs above, below or beside the actual headlights; this is the next in-thing as I have already seen them installed on older Nissans.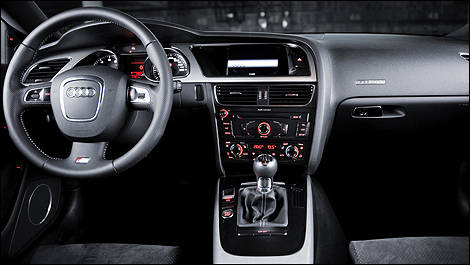 The dashboard gives me the impression that everything is mass-produced and not assembled with care and pride.