Okay everyone, those of you who remember what the previous-generation Taurus looks like, raise your hand. No, I'm not talking about the egg-shaped sedan that graced rental fleet parking lots for 10 years. You know, the one that Ford used to call the Five Hundred but was rebadged as a Taurus? What's a Five Hundred, you ask?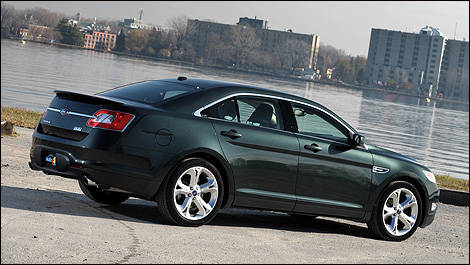 The new SHO's massive power and torque makes it very fast and mean. (Photo: Matthieu Lambert/Auto123.com)
Be honest. The old Taurus didn't register on the exciting-car meter, and the one before it didn't, either. For 2010, however, Ford has come up with a more mature, more upscale and desirable Taurus. They even brought back the Super High Output version that critics drooled over back in the day.
While the first
SHO
had a 220-horsepower, naturally-aspirated V6, the short-lived second-gen had a rather modest, 235-horsepower, 3.4-litre V8 that didn't quite deliver the goods. This third SHO episode stars a twin-turbo, 3.5-litre V6 that bolts out 365 horsepower and 350 pound-feet of torque, good for 0-100 km/h blasts of 6.3 seconds.
But unlike the first SHO, no manual transmission is offered; a 6-speed automatic with manual mode and paddle shifters is the sole gearbox choice. And that's ok, as only a few people would actually go for a manual transmission anyways.
The new SHO's massive power and torque makes it very fast and mean. All-wheel drive is standard, so no wheelspin and—thank God—no torque steer. At idle, the car emits a low-pitched burble that almost sounds like a V8 is lurking under the hood.
Ford claims V6 fuel consumption with big V8 power. Alas, our average of 14.9 L/100 km is more V8 than V6. We might not be very easy on the gas pedal this week, but then again, it is a performance-minded sedan after all.
Wearing 20-inch chromed alloy wheels and riding on a sport-tuned suspension, the SHO obviously feels livelier than lesser Taurus models. As long as you don't go thinking you can overtake
Nissan 370Zs
and
Mustang GT
s on twisty country roads, you'll enjoy the dynamic personality of the sporty Taurus. However, keep in mind this car weighs over 4,500 pounds, so it's not particularly nimble.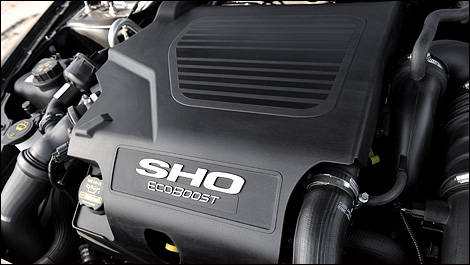 Our average of 14.9 L/100 km is more V8 than V6. (Photo: Matthieu Lambert/Auto123.com)