I don't know for sure what to call the new
2010 Honda Accord Crosstour
and, frankly, neither do the company's reps. Halfway between a sedan and a wagon, the misleading configuration even hints at a coupe — which it isn't. As for its massive, Grendizer-style nose, it looks like it was ripped off from some rugged 4x4. Why such a drag show?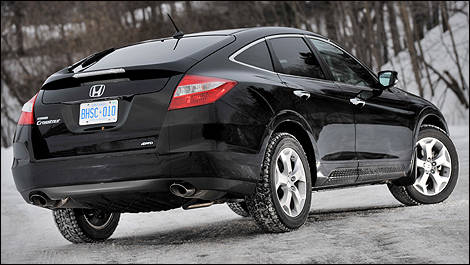 A bizarre cross between a sedan, a wagon and a sport utility vehicle, the 2010 Honda Accord Crosstour at least gets credited for offering a much more versatile interior than the regular Accord. (Photo: Matthieu Lambert/Auto123.com)
In my honest opinion, the Crosstour is further proof that the auto industry once again finds itself at a crossroad. Consumers are turning away from big, inefficient SUVs in the secret hope of unearthing a new "genre" that's both functional and versatile, hence the idea to create an automobile that resembles a mature version of a Tonka truck more than a traditional wagon. And just to avoid confusing people, you slam the Accord badge on the rear hatch!
When sorting out the closest competitors, one gets a clearer picture of the Crosstour. The short list ranges from the Ford Edge to the Subaru Outback. Similar to the latter, the Crosstour boasts a 6-centimeter increase in ground clearance over the regular Accord it is based on. And like the
Edge
or Toyota Venza for that matter, the flexible interior configuration achieves new levels of versatility.
Looks are deceiving
Don't let the muscular exterior fool you — it's all fake. The Crosstour is definitely not an off-roader. In fact, Honda only goes as far as to talk about "gentle dynamics on country roads."
What's more, the 680-kg towing capacity is the lowest among the circle of aforementioned rivals. The Outback can tow more than 1,200 kilos, while the Venza and
Nissan Murano
add nearly 400 kilos.
That's why we need to label the Crosstour as an "urban tourer", to wit: Honda's literature insists on all the "golf gear and grocery bags" owners can load inside this high-heeled Accord. By contrast, Subaru mentions "snowboards and kayaks." That says it all!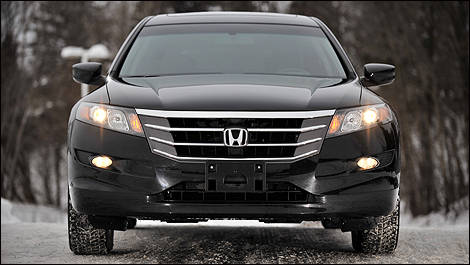 What's more, the 680-kg towing capacity is the lowest among the circle of aforementioned rivals. (Photo: Matthieu Lambert/Auto123.com)