Nissan's been building two-door sportscars for decades. The 240SX, 300ZX and
GT-R
are all examples of how the automaker has earned a loyal following of performance enthusiasts in both the new and used markets.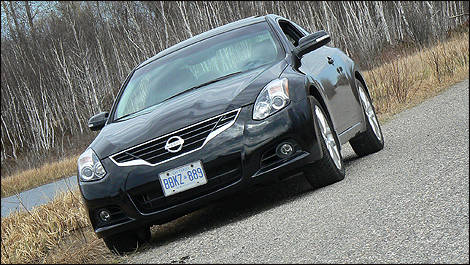 The Altima Coupe hits hard where uniqueness, heritage, performance and, perhaps surprisingly, fuel economy are concerned. (Photo: Justin Pritchard/Auto123.com)
Intended to fill a gap between the four-cylinder Sentra SE-R and the considerably less practical Z lineup, Nissan's latest new two-door is a compressed version of their Altima sedan. The Altima Coupe is relatively new in the world of Nissan sports cars, but it's attracting a new buyer to the Altima family who wants nothing to do with a family car.
A two-door four-door?
Altima Coupe is far from a four-door with two doors hacked off. In fact, it's lower than the sedan-- as well as shorter in terms of both wheelbase and overall length. Where body panels are concerned, only the hood is shared between sedan and coupe models.
Physically and visually condensing the already-sporty Altima platform is a pretty exciting proposition-- and combined with a recent facelift, the
Altima Coupe 3.5 SR
gives shoppers a sexy, lean and agile machine that's motivated by the better part of 300 horses.
Award-winning engine, controversial transmission
The tester got Nissan's potent 3.5 litre V6, tuned for 270 horsepower in this application. Combined with the sharp styling and proven handling, the tester was borderline drool-territory for most sports car buffs, except for one thing.
Rather than the six-speed manual revered by enthusiast drivers, Nissan's Xtronic Continually Variable Transmission (CVT) was attached to the powerplant.
Where die-hard car nuts are concerned, these three letters virtually border on obscenity for a number of reasons. These include a strange and unnatural feel to full-throttle power delivery, and the lack of gear-shifting sensations that enthusiasts learn to love at a young age. At full rip, most CVT-equipped cars feel like a manual with a blown clutch and sound scarcely more enjoyable than fax-machine squelch.
Combined with the sharp styling and proven handling, the tester was borderline drool-territory for most sports car buffs. (Photo: Justin Pritchard/Auto123.com)