Since Infiniti launched the G35 sedan in 2003, the Nissan Maxima has been stuck between a rock and a hard place. Trying to find some elbow room between the mid-size
Altima
and the rear-wheel drive G, the Max seemed to have lost its raison d'être.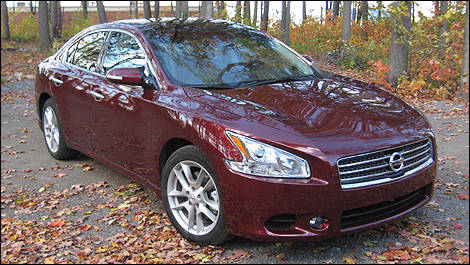 The 2010 Nissan Maxima starts out at $39,450.
Totally renewed for 2009, the Maxima is back with unique (read: peculiar) styling, more power and less torque steer.
In fact, Nissan is so confident about their redesigned sedan that they're proclaiming "the return of the 4-Door Sports Car", an advertising line they used on the Maxima twenty years ago.
Behind the radiator couldn't reside anything else than Nissan's evergreen 3.5-litre V6. For Max duty, the aggressive engine delivers 290 horsepower and 261 lb-ft of torque; that's 20 more ponies than the Altima and 38 less than its Infiniti cousin. The car rockets to 100 km/h in 6 seconds flat and covers the quarter-mile in 14.2 seconds at 160 km/h, but what's more important is the way that it sends its power to the pavement.
The previous-generation Maxima had a hard time harnessing its 255 horses through the front wheels. Torque steer, or the tugging effect through the steering wheel during full-throttle acceleration, was part of the deal with the old car. We're happy to report that it's much more subdued in the new Maxima. You'll obviously still feel it when turning a street corner with the pedal to the metal, but otherwise, it isn't really a problem.
In addition to the straight-line speed, the car can also show off some skills in the handling department. With a fairly quick steering ratio and minimal body roll, one can entertainingly push the Maxima down highway on-ramps and blast through the countryside with confidence. This doesn't mean the Max is a
370Z
with two extra doors, though, and its turning circle could be tighter.
Our
fuel consumption
average is 10.2 L/100 km, which isn't bad despite racking up mostly highway mileage.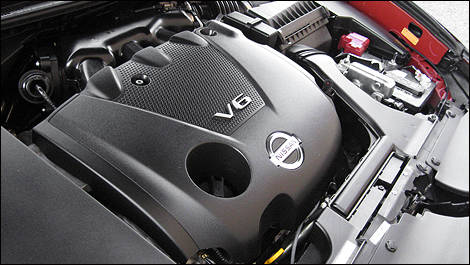 The aggressive engine delivers 290 horsepower and 261 lb-ft of torque.