If you don't have a mid-size SUV to offer in North America yet, you're missing the boat. Every manufacturer knows it, and has reacted consequently. Some were more in a hurry than others, swinging a deal with another automaker to rebadge a model that already existed, which saves times and development costs.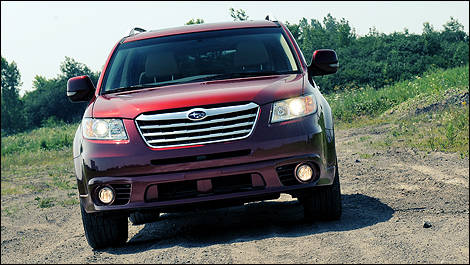 Since 2008, the Tribeca sports a more conventional look. (Photo: Matthieu Lambert/Auto123.com)
Subaru took the long road, though, and fully developed its mid-size sport-ute, the
Tribeca
. Called the
B9 Tribeca
during the first few years, the B9 appellation was dropped when the second-generation model came out for the 2008 model year.
The second coming of the Tribeca brought a reskin, and the vehicle now looks more conventional than the first version, which was the spitting image of Q-Bert. The rear end is also improved and no longer looks like it could swallow a giant 8-track tape. Still, you can't blame Subaru for trying to create a distinctive shape.
Inside, the Tribeca benefits from a pleasing environment, with good-quality furnishings and attractive styling. The dashboard spills down into the centre console, creating a fluid and organic look. The driver gets a good driving position, and the vast majority of the switchgear is within easy reach.
Everything isn't perfect, though. The A-pillars are large, which create blind spots at street corners. The climate control rotary dials are spring-loaded and irritating to use; make them infinitely twistable, which would make adjusting temperature and fan speed quicker. And when you don't opt for the navigation system, unlabeled buttons sit on top of the centre console, perpetually reminding you that you didn't buy all the bells and whistles.
And when you don't have navigation, the touch-sensitive LCD screen serves as an information display for radio, climate and
fuel economy
. It also shows what the standard-equipment rear view camera is seeing. Fine. But every time you start the Tribeca, you have to get past a disclaimer usually found in navigation systems by pressing the AGREE button on the screen. You can't even get the time of day without agreeing to the disclaimer. That's frustrating.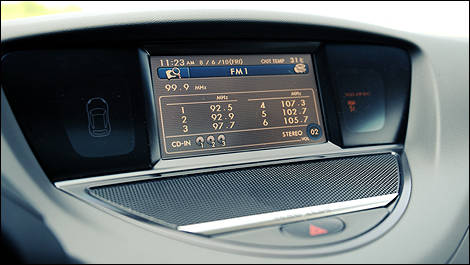 When you don't have navigation, the touch-sensitive LCD screen serves as an information display for radio, climate and fuel economy. (Photo: Matthieu Lambert/Auto123.com)