As reported by Mazda
Mazda's display at the 2010 Canadian International Autoshow is all about the 2011 Mazda2, a stylish, fun-to-drive five-door hatchback. Zoom-Zoom in its most concentrated form – compact and efficient, yet packed with style and substance, the 2011 Mazda2 will launch into the Canadian market late in the summer of 2010.
2011 Mazda 2 (photo: Mazda)
Also appearing are a trio of concept 2011 Mazda2's with two of the three cars making their Canadian debuts. The first is the 2Evil Special Concept, a track inspired weekend racer that is equally as comfortable on the urban commute, while the second is the Active2 Surf Concept. Also appearing is the Active2 Snow concept, which made its Canadian debut at the Montreal International Auto Show last month. All three variants showcase the Mazda2's ability to meet the needs of a customer's desire for personalization.
Mazda's development of hydrogen vehicles covers a span of 19 years and today, Mazda's latest effort, the 2009 Mazda RX-8 Hydrogen RE makes its Canadian debut at the 2010 Canadian International AutoShow. The first prototype, the HR-X, was presented at the 1991 Tokyo Motor Show. Even back then, the concept car had a hydrogen-powered rotary engine as its powerplant. The hydrogen-powered Mazda prototypes resulting from this intense research work have succeeded one another at a steady pace since the early 1990s, up to the first Mazda RX-8 Hydrogen RE (Rotary Engine) concept car presented at the Tokyo Motor Show in 2003. The 2004 road homologated prototype formed the basis of the Mazda RX-8 Hydrogen RE, which is actually being driven on public roads in Japan and in Norway.
Completing the Mazda display in Toronto is the full complement of Mazda's award-winning vehicles including recent Automobile Journalists Association of Canada (AJAC) winners the 2010 Mazda3 Sedan, named "Best New Small Car under $21,000" and the 2010 Mazda3 Sport, named "Best New Small Car over $21,000", as well as the 2010 Mazda5 and 2010 Mazda B-series B-2300 pickup, both of which were recently awarded ecoENERGY awards as the most fuel efficient vehicles in their classes (van and pickup truck respectively) by Natural Resources Canada. Also on display are the MX-5, RX-8, Mazda6, CX-7, CX-9 and Tribute.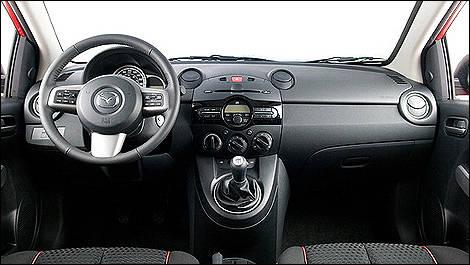 2011 Mazda 2 (Photo: Mazda)