From the outside, the Golf Wagon (in fact simply the new version of the Jetta) has all the VW family traits. It naturally sports the traditional front fascia of the new Golf, but it's also taken up the rear end of the old Jetta. It's resolutely German in style, and while unspectacular it's nonetheless attractive, especially because of its family-friendly size. Which explains its raison d'être in a virtually empty segment.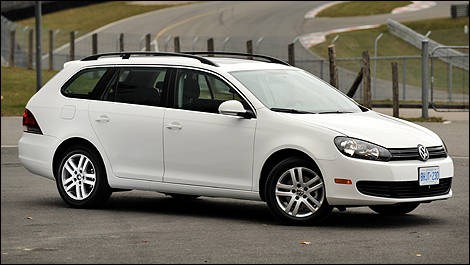 The Golf Wagon is in fact simply the new version of the Jetta. (Photo: Matthieu Lambert/Auto123.com)
The cabin, in the image of the
hatchback Golf
, benefits from a new layout including new materials, a more sophisticated fit and a style that continues to define Volkswagen's personality by its simplicity and efficiency.
Of course, the high-end Highline version has more bang than the basic variant. It boasts sportier seats – that didn't get unanimous approval, some finding them a tad too tight for comfort – a touch screen on the centre console (but no
nav system
, mind you) and a gargantuan sunroof, of which only the front part slides back. Expect lots of light, but lots of wind as well.
A family affair
The Golf Wagon was created first and foremost with families in mind. It's all about space and versatility, an area in which the Golf Wagon excels. Rear passenger space is decent, neither too vast nor too small. Passengers are comfortably attended to, although three-person parties will probably consist of small children rather than consenting adults.
On the flip side, there is quite enough room for two people to pleasantly survive longer trips. If it weren't for the overly communicative rear suspension, it would be almost perfect.
And how can I not mention the cargo area? The good people over at VW have certainly hit the bull's eye this time. It's cavernous, easily accessible and not really affected by the wheels invading the cabin. Even better, the second row of seats easily folds down, revealing even more space.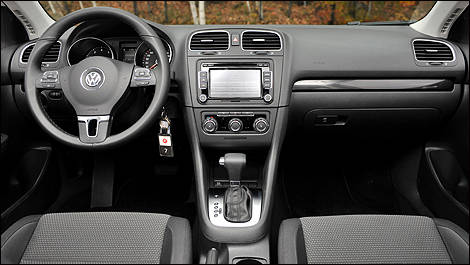 The cabin, benefits from a new layout including new materials and a more sophisticated fit. (Photo: Matthieu Lambert/Auto123.com)