We won't hide our love for wagons here at Auto123.com. We like the car-like driving dynamics married with the cargo space. You always need an everyday vehicle that can haul more than a golf bag (no pun intended), but an SUV or even a crossover might not suit your tastes.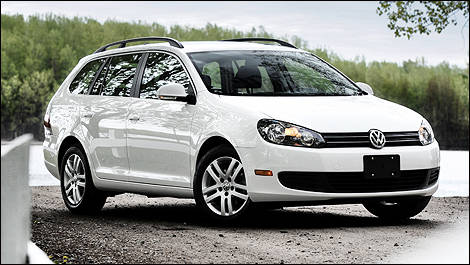 At Auto123.com, we like the car-like driving dynamics married with the cargo space. (Photo: Matthieu Lambert/Auto123.com)
In the affordable compact-car segment, there are only two wagons available in Canada: the
Hyundai Elantra Touring
and the
Volkswagen Golf Wagon
. The rest are all hatchbacks. That's a shame, because a station wagon has a lot to offer.
Starting with cargo room. The Golf Wagon can swallow up to 1,890 litres of cargo, which is more than many compact SUVs and a few washer fluid jugs more than the Elantra Touring. Even with the rear seat in its upright position, the Golf can still accommodate 930 litres of stuff, compared to 688 for the Hyundai.
If you have small children, that means room for the stroller, the portable playpen, the diaper bag, the toys, the family dog and more; visiting friends and family can't get easier than this in a compact car.
Up front, the Golf includes quality build materials; nothing feels cheapened down by the cost-cutting department, and all the switchgear feels solid. The interior could benefit from more adventurous styling, however. The heating and ventilation system is controlled by rotary dials, which are the easiest to use while driving, and the steering column is tilt and telescopic, so finding a good driving position is easy in the Golf.
The front seats are nicely bolstered, and have that German firmness that allows you to drive for long-distance trips without getting sore. The back seat is fine for three people, although like most compact cars, a shortage of shoulder room is obviously noticeable. The optional panoramic sunroof brightens up the cockpit and seems to make it roomier than it is; a worthwhile addition, if you can afford it.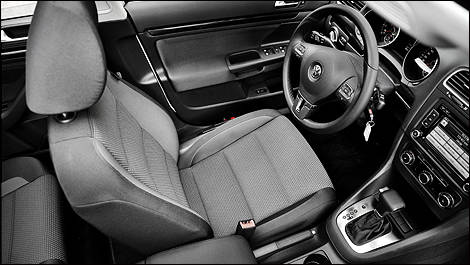 The seats are firm and nicely bolstered. (Photo: Matthieu Lambert/Auto123.com)