A no-fluff review for a no-fluff car? Sounds good, no?
The
BMW 1 Series M Coupé
(let's call it the 1M) is so simple, focused and free of needless add-ons that it's made this writer want do something similar for his review.
Premise? The go-fast gurus at BMW's in-house performance M division took the regular 1 Series and tweaked the stink out of it, adding significantly to the styling, handling, performance and braking capabilities of the standard car. And that standard car didn't really lack for styling, handling, performance or braking capabilities. Bless you, BMW, for not leaving well enough alone.
Cranked to Eleven
But anyhow. The 1M. It's like they put the modest little
128i
on an all-steroid diet, emptied a syringe of illegal stimulants into its neck, and sent it to the gym. It looks so muscular, it's nearly busting out of its own skin. If it weren't made of sheet metal, it'd probably have stretch marks.
The important stuff? The 1M packs 335 horsepower up front, a 6-speed manual in the middle, drives the rear wheels, and gets a really loud exhaust system at the back. There's no fluffy, sissy stuff, here. And that's perfect, if you like performance cars without fluffy, sissy stuff.
You can't even get the 1M with a sunroof, fog lamps or an automatic transmission. Performance cars don't need such junk.
Sure - 1M needs to have airbags, Bluetooth and power windows. It is a BMW after all. But the simplistic approach should be welcomed by many enthusiasts nonetheless. Regardless, this is a hell of a performance car engineered to delight drivers with all systems cranked for maximum hooliganism.
Jacked
Flared fenders accommodate wide wheels wrapped in sticky, high-performance Michelin Pilot tires. There's a track-ready braking system with cross-drilled rotors for consistently powerful stopping, and the front bumper has more air intakes than a fighter jet, including ducts for the intercooler system. The rear end is decorated with four exhaust pipes and the colorful little "M" badge, too.
This car is a big deal and looks that way. In gearhead circles, arriving somewhere in a 1M is like showing up to a party with your new best friend Brad Pitt.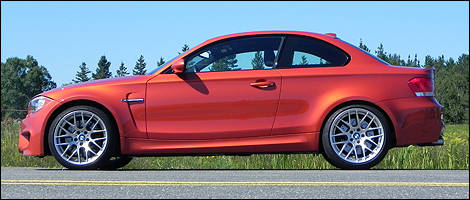 Flared fenders accommodate wide wheels wrapped in sticky, high-performance Michelin Pilot tires. (Photo: Justin Pritchard/Auto123.com)