San Diego, California.
I cannot imagine a better place than beautiful Southern California to test drive a convertible. I am here for the launch of some new products from Chrysler.
Chrysler is getting back in the game. They have the youngest showroom in Canada, featuring sixteen all new, or completely redesigned vehicles.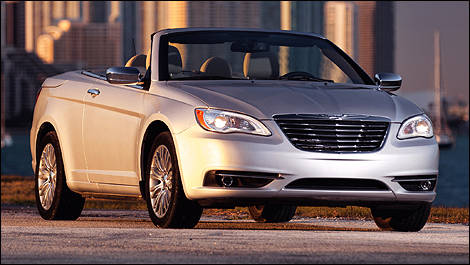 Chrysler has dropped the Sebring nameplate and is now introducing the 2011 Chrysler 200 and 200 convertible. (Photo: Chrysler)
Chrysler has dropped the Sebring nameplate and is now introducing the
2011 Chrysler 200
and 200 convertible.
After spending the entire morning in the redesigned
Chrysler 300 sedan
, I rush through lunch to ensure that I will be able to enjoy as much time in the sun with the top down in the 200. The afternoon's drive is all about the convertible and there is no 200 sedan for me to drive.
In my opinion, convertibles come in two major styles; very impractical, 2-seater, look at me, fun to drive, roadsters; and, the idea of a practical, 4-seater, roomy, fun to drive, comfortable convertible.
I say the "idea" of practical because most of the mid-size convertibles don't actually provide space in the back seat for adults, let alone any room in the trunk when the top is down.
I would almost call this 200 a true mid-size convertible. Seating for four adults in this car is actually manageable. Don't get me wrong, there is not a tonne of legroom in the back, but I think that most people could sit back there and not have too much to complain about.
I managed to put a few bags in the trunk with the top down, my car has the retractable hard top and I keep it down for most of my drive. Could you put golf clubs back here when the top is down? No, but they will fit in the back seat.
All trims level will come with a power cloth top and unfortunately, the power retractable hard top is only available as a $2,500 option on the top of the line Limited model.
The new exterior has a very uncomplicated and clean design. All-new sheetmetal really brings attention to the simple surfaces and sleek lines. Same goes for the revised front grille shows off the new Chrysler winged badge.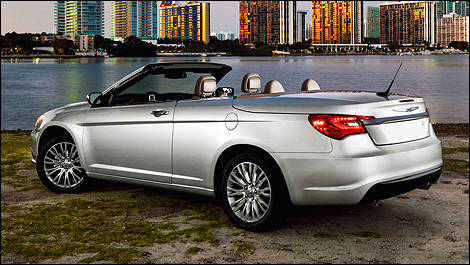 The new exterior has a very uncomplicated and clean design. (Photo: Chrysler)