Call me harsh, but I'm no fan of the new M. Think back to the real first generation of the M (2003-04). Do you remember it? If not, look through the gallery. This was a rare and exclusive car. Now, fast forward to the 2006 model year and the previous Infiniti M. This time, the car had gone a little more mainstream but it still maintained an aura of exclusivity. I have always been an admirer of the M, even the original unloved and unknown M30 from the early nineties. So I like the M. We're clear on this right?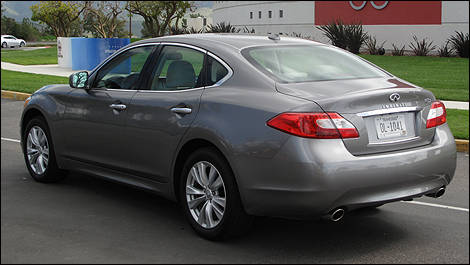 The new M is nice but just not nice enough. (Photo: Mike Goetz/Auto123.com)
Not so much anymore. Look at it. What do you see? A G? Come closer. How about now? That's right, it does look like a G but larger, softer and more generic. Why? Why has Infiniti diluted what once was a halo car? Remember the J30 and
Q45
? Those were original signature Infiniti cars; they were not mainstream but they had unique cachet that eluded Lexus and Acura. And that was and is the problem. Especially when compared to Lexus. The Toyota luxury brand has long outsold Nissan's high-end efforts and, as Infiniti moves into other World markets, namely Europe, they need to be less "different".
Enter the new "M"
Regardless of my comments concerning the fact that the
2011 M
is now just another Japanese luxury car, it is still elegant and pretty. Its most distinctive features being the flared front wheel arches and how the hood arcs between the two, much like those found on the
G
, the M sports softer flowing lines than the previous car; very much inspired by their much touted: "It begins with a brush stroke".
Where Infiniti could have spruced up the 2011 M is with a more dynamic set of basic wheels. Unless your M is a Sport, you get fairly bland-looking 18" alloy wheels, whether your bonnet covers a V6 or V8. The visual impact of the 20" wheels is incredibly noticeable and transforms the car into something desperately more desirable. My M37x was draped in Platinum Ice (silver) which did nothing to improve the car's image.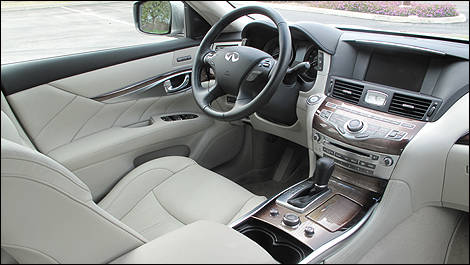 The M's cabin is sumptuous and comfortable. (Photo: Mike Goetz/Auto123.com)